Pastimes such as gardening, home beauty treatments, meditating and exercise have begun to take centre stage — we take a look at some relaxing activities you can do in the comfort of your own home.
The COVID-19 pandemic changed a lot of things, including the way we work and live. With people suddenly spending a lot of time at home due to remote work arrangements, pockets of time become available for their creative pursuits. Over time, hobbies and self-care have become top priorities as people learned to juggle the blurred lines between work and home. Ready to jump on the bandwagon? Here are some activities you can try at home.
Gardening blooms
These days, it pays to have a green thumb, especially with the threat of global warming looming large. People have woken up to the idea that they can all contribute in their little ways to combat climate change, by taking up gardening at home. After all, it needs very little investment and pays rich dividends to the planet.
Singapore has been known as a 'garden city', thanks to the lush tropical greenery lining the streets. A new surge of Singaporeans has picked up their rusty gardening tools and started growing vegetables and fruits at home during the pandemic. More than 400,000 vegetable seed packets from NParks' Gardening with Edibles campaign have been snapped up by aspiring gardeners.
The health benefits of gardening are well known. If you have an outdoor garden, it helps you get your daily dose of Vitamin D, it's a less strenuous form of exercise that still gets the heart pumping, and its mood-boosting abilities promote mental health too — perhaps explaining why more people have turned to it during this period of heightened stress and uncertainty.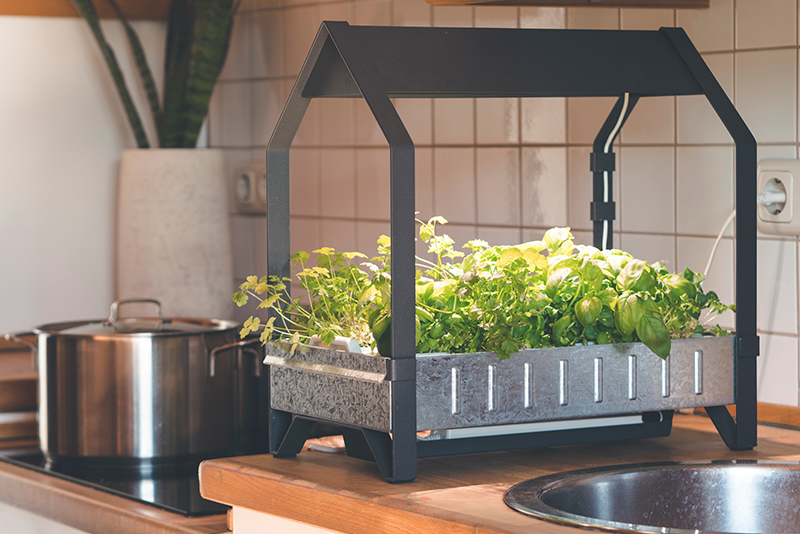 If space is an issue
Hydroponics is really popular and uses mineral nutrient solutions in an aqueous solvent. Often marketed as 'smart gardens', this method of gardening uses zero soil, less water, and fewer pesticides for fruitful results. With built-in LED light and watering system, the hydroponics herb planter does all the hard work for you. It also maximises space — perfect if you find that regular gardening takes up too much room. Using hydroponics, you can grow leafy veggies like lettuce, spinach and kale or juicy fruits like strawberries and cherry tomatoes.
Aloe vera is a handy plant to grow because you can harvest its gel. Herbs like lemongrass, Thai basil, kaffir lime, parsley, bay leaves, rosemary, thyme, oregano, curry leaf and mint, besides vegetables like eggplants, sword beans, luffa and chillies tend to do well in the garden. For those who are impatient, microgreens like broccoli, spinach, chia and arugula offer a faster alternative, becoming ready for harvest in just two to four weeks.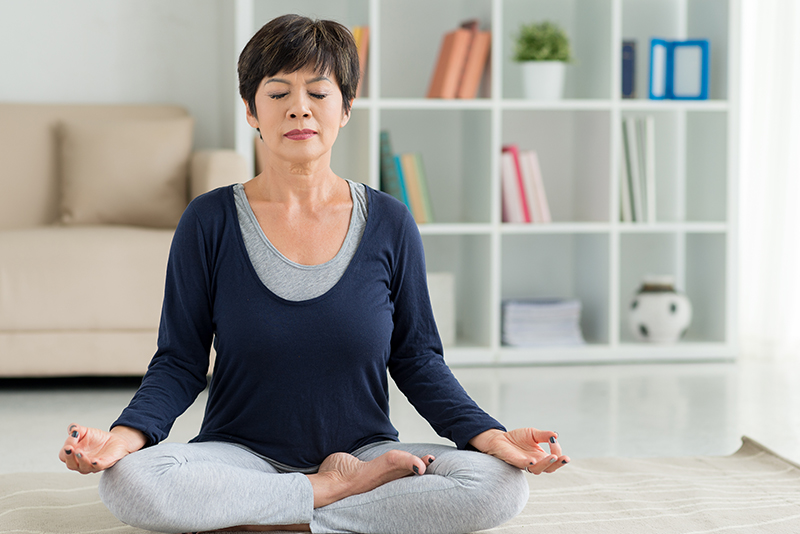 Channelling inner peace
While it is nearly impossible to control what is happening around us, what we can do is change how we look at it. We need to look inwards to maintain a calm outlook even in these trying times. Meditation has been proven to reduce stress, increase calmness and clarity, and promote happiness.
Meditation increases our energy level, improves immunity, helps us lose weight, resolves insomnia, normalises blood lipid, sugar and pressure levels, and even prevents cardiovascular diseases. Listening to basic guided meditation through tutorials can be helpful when you're getting started. There are various free apps available, such as Calm, Headspace and Mindfulness.
How to get started
All you need to do is find a quiet spot with something comfortable to sit on, be it a chair, sofa, or cushion. If you'd like to incorporate essential oils, some good options are palo santo, ylang ylang and myrrh. You don't necessarily need healing crystals for meditation. However, a lot of practitioners use them in meditation because they are believed to have healing and protection abilities.
You can meditate anytime and anywhere. If you're a beginner, one of the most essential parts of meditation is tuning into the process of breathing. By acknowledging, letting go and coming home to the breath and the present moment, you're practising mindfulness.
Breathing practices allow you to focus on the moment and the breath. Learning how to breathe deeply can help you feel more peaceful and calmer throughout the day. Begin by emptying your lungs. Breathe in through your nose for four seconds. Hold your breath for seven seconds. Exhale firmly through your mouth, pursing the lips, for eight seconds. Repeat this cycle up to four times.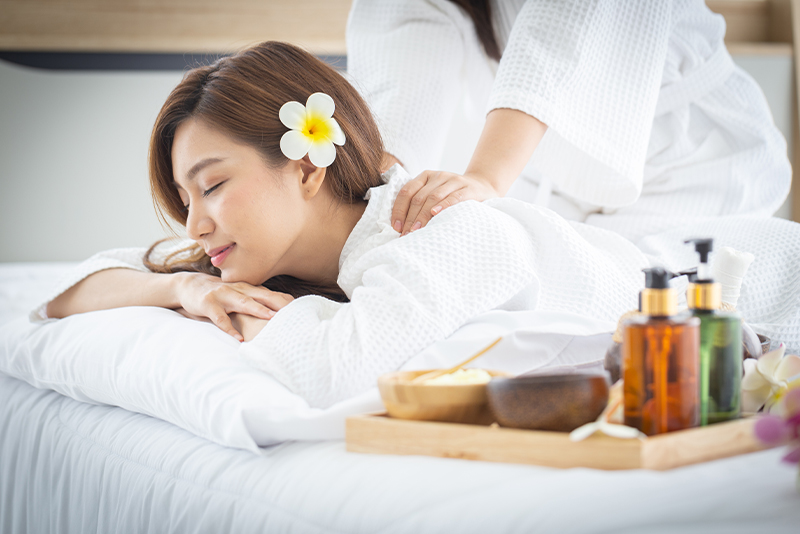 Enjoying a spa-rkle
While we refrain from venturing out of our homes in a bid to contain the spread of the virus, our beauty regimens shouldn't take a backseat. Beauticians have started catering to the needs of their clients in the comfort of their own homes.
Spa services just a call (or click) away
Popular on-demand home services have boomed and these include massages, facial services, and make-up, hairstyling, waxing, threading, manicure and pedicure sessions. Other choices include energising scrubs, moisturising wraps and hydrating masks. And if you're looking for something more, some even offer a full-body exfoliation, a Balinese massage or Asian herbal body scrub.
The more adventurous try a Swedish massage, hair treatment, eyelash extensions, crystal facials, or balayage (painting highlights onto the hair) for some head-to-toe pampering. Facials and scrubs help maintain the skin and eliminate breakouts while massaging helps relieve stress in these troublesome times.
Work it out
Health is wealth, and it has never been more obvious. With hardly anyone stepping outside to work out due to restrictions, our homes became the gym. The sale of home fitness equipment saw a spike as people invested in their health and well-being.
Go beyond running
Thinking of exercising, most of us conjure up images of running or cycling. But now, people have realised there are many new workouts to choose from. Rebounding (a combination of cardio, aerobic, anaerobic and strength training exercises) and barre (that combines ballet, Pilates and strength training) are prime examples.
Of course, for those who like to be old-school, there is always good old HIIT (High Intensity Interval Training), along with cardio, weights, strength training and equipment like treadmills, bikes, kettlebells, dumbbells and barbells. Those who like something a little more fun try boxercising (a high-intensity interval boxing training) with aqua punching bags and achieve not only better hand-eye coordination and strong kicks, but also gain confidence-boosting self-defence skills with non-combat kickboxing.
Cardio and strength training, or some combination of the two, are the cornerstones of any solid workout programme. But one of the most overlooked elements of a comprehensive programme is stretching. Stretching is essential for improving flexibility, which is an important component of overall fitness, along with mobility, strength, power, and endurance.
Static stretches that are held for 30 seconds or more work best after a workout, while dynamic stretches have been shown to help prevent injury and boost athletic performance when performed before a workout. Similarly, daily stretching exercises can help increase your functional range of motion, which will benefit you both during your workouts and in everyday life.
It may be a while before we return to life as it was pre-pandemic, or maybe we never will. No one can predict the future or what lies in store, but one thing is for sure. We will adapt to whatever comes our way and emerge stronger, even in the face of adversity, and bravely soldier on, even after the pandemic is just a distant memory.
For those of you who are interested, NUSS is organising a session on 'Taking Care of Our Mental Health During COVID-19' on 19 January 2022, from 12 pm to 1.30 pm. The event will feature Ms Zeng Weiting, a registered psychologist with a Master of Psychology (Clinical) degree from NUS. Mr Jeremy Seah, Co-Chairperson of the NUSS Intellectual Pursuit & Lifelong Learning Sub-Committee, will be the moderator. Registration closes on 12 January, 2022.
Click here to register. For enquiries, please email [email protected].