How do SMEs tap on the various government grants during this pandemic? A recent NUSS workshop highlighted the different options available.
The in-person workshop on 'Understanding SG Government Grants for SMEs' held at NUSS Kent Ridge Guild House on 9 November 2021 was a timely and helpful guide to available grants and programmes. Some 30 participants attended the session organised by the Communities of Practice (CoP) Sub-Committee. The workshop was conducted by Mr Sean Ng, co-founder and managing director for the Asia Pacific region of Cornerstone Global Partners and moderated by Ms Lim Swee Kim with more than 25 years of senior management experience in finance, technology, chemicals, manufacturing and transportation sectors, both members of the NUSS CoP Sub-Committee.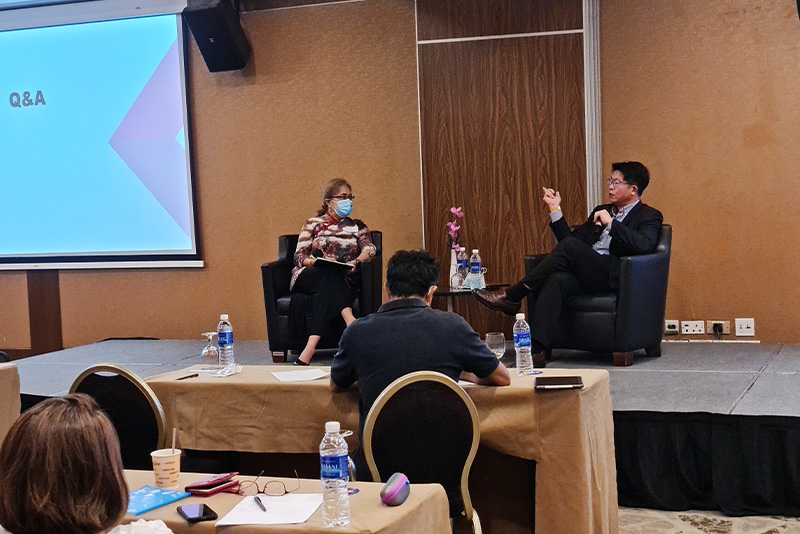 In his welcome address, NUSS President Mr Edward Tay, said that CoP started off with the goal of enhancing the value of the NUSS membership by providing an avenue for members to interact and develop in their professional fields or interests. He added, "Under the guidance of Ms Sean Kuan Thye, the concept evolved into the establishment of industry and profession-focused communities for members' personal, professional and business development, aptly named 'Communities of Practice'.
"In June last year (2020), the first Community of Practice was formed. The Human Capital Community of Practice, which is chaired by Mr Daniel Chia, has been regularly organising webinars. The most recent one on Work-life Harmony was just last month (October 2021),"he highlighted.
He said he looks forward to more CoPs being formed and called on interested members to initiate discussions with Ms Sean or Mr Chia, the Chairperson and Deputy Chairperson of the CoP Sub-Committee respectively.
Mr Ng kicked off by highlighting that the Singapore Government is actively helping businesses to ride out the challenges brought about by the COVID-19 pandemic and prepare for economic recovery. However, many SMEs are stumped as there are more than 100 government schemes to assist and support digital transformation, recruitment, overseas expansion and start-ups. Many bosses of SMEs are also unsure of the application process.
With Mr Ng's experience in advising SMEs throughout South East Asia on transformation projects as part of the SME Challenge programme, he provided interesting anecdotes of case studies of SMEs in obtaining these grants. He also drew on his 20 years of expertise in the executive search space in Singapore, China and Hong Kong to draw comparisons between the governments' support of businesses in these respective countries.
Mr Ng started off the presentation by highlighting SMEs' significant contribution to the economy. He noted that there are about 270,000 SMEs and they account for 99% of companies in Singapore while employing 70% of the workforce
He said that many SME owners are very focused on their businesses and may not have the time to understand the way the grants and programmes work. He advised them to consult vendors who can show them the way. These grants and programmes have been in place for more than a year and there are many experienced players. However, he said that those planning to apply should move fast as these grants are scheduled to end in March next year. To qualify, these SMEs should have at least 30% local ownership and have revenues of less than $100 million. In a show of hands, about 40% of the participants at the workshop were managing SMEs that fit the criteria.
Grants to Help SMEs in Three Areas
The agenda was comprehensive, covering three areas of government support — companies, individuals and Covid-19 related schemes. He distilled the grants and schemes into bite-sized explanations that comprised their objectives, benefits and applicability
Noting the government's push to get more SMEs to go digital, Mr Ng highlighted the Productivity Solutions Grant which aims to support businesses in the adoption of productivity solutions with up to 80% funding support. He also focused on the Enterprise Development Grant that encourages local SMEs to upgrade, innovate or venture overseas with up to 70% funding support for eligible costs.
Questions from the participants after the first part of the presentation that covered grants for companies and employees were mainly on grants for hiring and training. On these subjects, Mr Ng shared his personal experience and urged those owning SMEs to check the Jobs Growth Incentive and Career Trail.
In addition, he highlighted the relevant grants and schemes for individuals during this COVID-19 period
He ended his presentation with a case study of a retail company with low employee morale and high attrition and explained how the management solved the problems with the appropriate government grants.
This was followed by another lively Q&A session where participants shared their experiences about their difficulties in recruiting and retaining capable employees.
Closing the workshop, Ms Lim said that the Communities of Practice Sub-Committee is keen on expanding its scope to include more business sectors and there could be more of such instructive workshops on issues that help entrepreneurs of businesses, not just SMEs, to be in the know.
Look out for information on forthcoming workshops on the NUSS website.