NUSS Toastmasters physical meetings are back and are better than ever!
Contributed by Vice-President, Public Relations (2021/22) of NUSS Toastmasters Club, Ms Lim Swee Kim
"We learn best in moments of enjoyment"
What Mr Ralph Smedley, the founder of Toastmasters International, said almost 100 years ago still rings true today, hence the NUSS Toastmasters Club (NUSS TMC) constantly considers ways to add fun into the mix so that members get to enjoy enriching programs with fun activities – all in a supportive and friendly environment.
What does one get when one mixes the art of public speaking with delightful cocktails? Great connections! On 25 November 2021, some 30 TMC members picked up fun skills in concocting cocktails as well as invaluable techniques on how to be a better speaker.
That was NUSS TMC's first physical meeting after six months of virtual meetings. And what made it really special was that it was also held online concurrently so that fellow Toastmasters at home and abroad could join in! It was truly a first for the club and both on-site and virtual meeting attendees had an amazing experience as they could engage across time and space!
The immensely refreshing hands-on Cocktail 'n' Convos workshop led by Velixir.sg (a company that specialises in locally inspired and bespoke cocktails), was one of the evening's highlights that was telecast live to the attendees at home.
The mixologist shared cocktails techniques used by professional bartenders and showed the audience how to create delicious cocktails with their signature liqueurs – Velixir Sour Plum liqueur, Velixir Kopi-O liqueur and the limited-edition Christmas Gingerbread liqueur. These cocktails certainly lifted everyone's spirits in more ways than one.
The audience enjoyed a variety of speeches from many of its members. NUSS TMC club president, Ms Sharon Kam shared her personal story on the meeting's theme "Your captivating Personal Brand"; newly minted TMC member Mr Benjamin Ong gave his Ice-Breaker speech on how he stumbled upon Toastmasters; while senior members Dr Joseph Tan and Mr Jay Ho spoke about "Overcoming my Slides Malaise" and "Sustainable FUEL" respectively.
Another member who tuned in virtually, Ms Zinc Goh, delivered her speech on "Laughter is the Best Medicine". The learning continued with a speech evaluation segment which was heartily rendered by Mr Lau Kwong Fook, Dr Fong Khai Seck, Mr Sin Ren Peng, Mr Lim Chung Wei and Mr Lee Yue Ming, also a new member. Other highlights included a general evaluation by its guest Ms Swarna Kalyan and a personal branding practical session by an overseas guest, Ms Cynthia Stott.
That evening, the NUSS TMC also celebrated the club's achievement of a significant Club Growth Award. All members present physically and virtually received a collector's Toastmasters International coin memento which depicted the tagline, "Where Leaders Are Made" and its core values of Respect, Integrity, Service and Excellence, which all Toastmasters aspire to continuously cultivate.
It was truly a captivating evening for everyone who attended the event. Looking forward to our next one!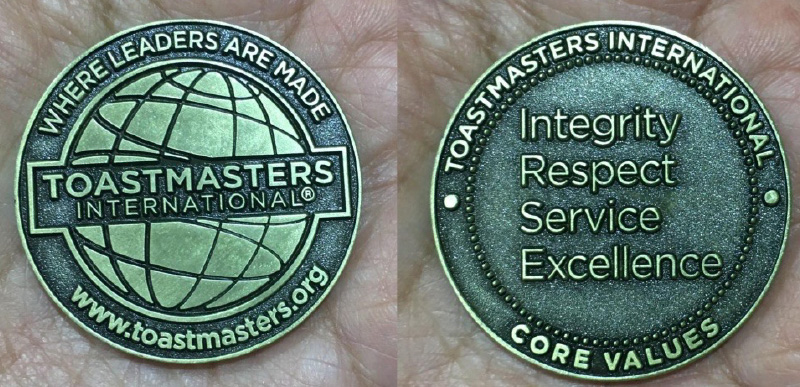 About NUSS Toastmasters Club:
Established in 2004, NUSS Toastmasters Club meets every 4th Thursday for a time of learning with fun activities to hone its communications and leadership skills. The club is open to all NUSS members by membership. NUSS members who like to visit the club or have any enquiries, can write to [email protected]
For more information, visit www.nuss.org.sg/social-groups/72
About Toastmasters:
Toastmasters International is a non-profit educational organisation that teaches public speaking and leadership skills through a worldwide network of clubs. Since 1924, Toastmasters International has helped millions of people from diverse backgrounds become more confident speakers, communicators, and leaders.
Benefits of being a Toastmaster: • Improve your public speaking skills • Build leadership skills • Maximize your potential • Enjoy unlimited personal growth • Work on networking in a small and supportive environment • Practice writing speeches and presenting in a group setting • Gain a competitive advantage in the workplace • Build self-confidence and self-awareness