Borders have opened! Getaways and road trips to neighbouring Malaysia are possible again. Thinking of hopping across the border? Here are our picks on what to do, what to see, and where to stay.
Grab your passports and pack your bags because it's time to hit the road! Whether you're making full use of a long weekend or just taking a breather from Singapore, a little change of scenery is always in our books. Need some ideas? We list three destinations with insights to other attractions that you can check out along the way.
Desaru Coast, Johor, Malaysia
One&Only Desaru Coast
Johor, Malaysia — estimated two hours' drive from Singapore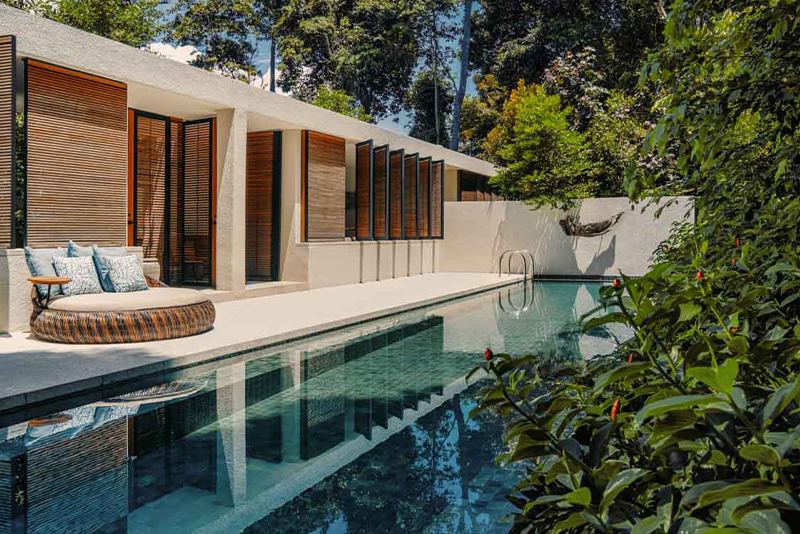 Private beach, luxe suite-only accommodation and a golf club to boot, the One&Only Desaru Coast is everything you would expect from the award-winning, five-star resort group. Touted as a beach paradise, the resort has everything you need to recharge and have fun — they have accommodation to suit couples, groups and families, and even a beach club and the resort's KidsOnly complimentary club that has loads of age-appropriate activities for the little ones. One&Only Desaru Coast also has Asia's first Chenot Spa offering a wide selection of wellness programmes for complete relaxation. And when it's time to fill your bellies, take your pick from the resort's selection of restaurants offering Mediterranean, Japanese, and Malaysian cuisines.
Don't forget to check out
If you're making your way to One&Only, be sure to plan a pit stop at LEGOLAND Malaysia, a place that needs no introduction especially for both young and old Lego master builders.
Bonus
Desaru is also accessible via a 90-minute ferry ride from the Tanah Merah Ferry Terminal to Desaru Coast Ferry Terminal, making it a good option for quick day-trips. Once you're on Desaru shores, there is a slew of attractions and activities nearby like the Desaru Fruit Farm (20 minutes away) where you can join a guided farm tour designed to excite all five senses, and the Desaru Coast Adventure Waterpark (10 minutes away) for a splashing good time.
Ipoh, Malaysia
The Banjaran Hotsprings Retreat
Ipoh, Malaysia — estimated six and a half hours' drive from Singapore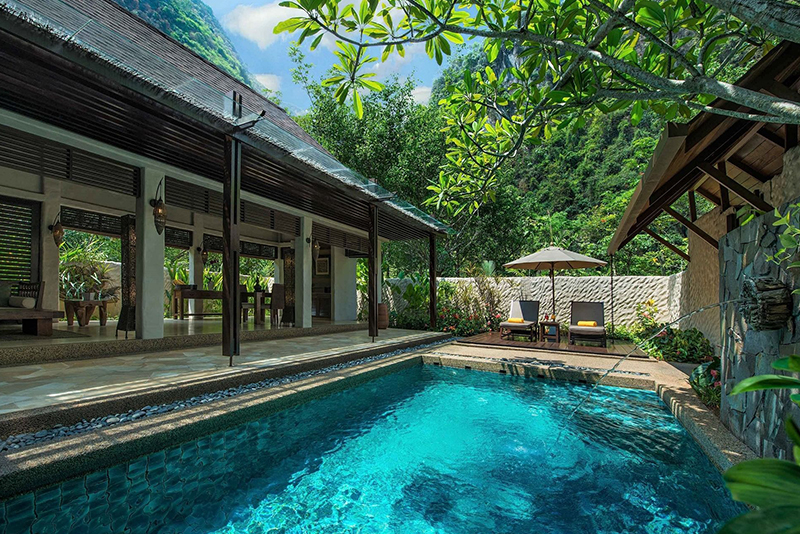 The highlight of the Banjaran Hotsprings Retreat is its 260-million-year-old limestone hills which is definitely something you don't see in Singapore. The award-winning retreat offers a respite from city life with its tropical rainforest setting, geothermal hot springs, natural caves, cascading waterfalls and Paleozoic limestone hills. The overall experience centres around wellness, and the retreat has a Spa & Wellness Centre where you can take your pick of authentic Asian holistic wellness and spa treatments comprising Ayurvedic, Traditional Chinese Medicine and Malay treatments, yoga classes, massages, and facial treatments just to name a few.
Don't forget to check out
Ipoh is known for its coffee — after all, it is  the birthplace of the famed Ipoh White Coffee! While you're there, be sure to swing by Kedai Kopi Nam Heong, said to be the origin of Old Town White coffee (estimated 30 minutes from The Banjaran Hotsprings Retreat) or Sin Yoon Loong just across the road for that much needed caffeine fix.
Penang, Malaysia
DoubleTree Resort by Hilton Penang
Penang, Malaysia — estimated nine hours' drive from Singapore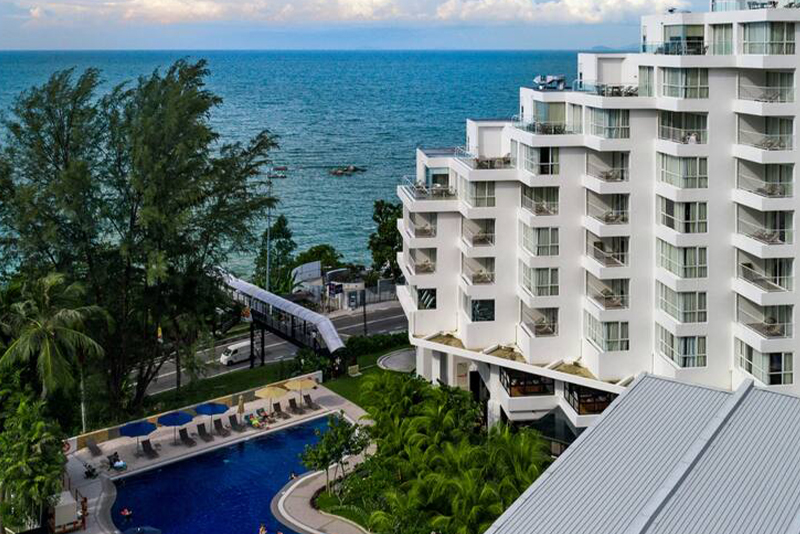 After spending hours on the road, it's good to know you're checking-in at a tried and trusted hotel chain run by the Hilton group. The DoubleTree Resort by Hilton Penang is a stone's throw away from the beach — so close you can see it from your hotel room window. This family-friendly destination has full-fledged activities, and various dining and wellness choices.
Don't forget to check out
Step away from beach for a while to take in the sunrise or sunset at Penang Hill, just 45 minutes away from DoubleTree Resort. Visit at dusk and you'll be able to catch Penang's George Town slowly illuminate as the sun sets and the vibrant heritage area lights up for the night. There are a number of nature walks and heritage trails at Penang Hill as well.
You can also head down to George Town, a UNESCO World Heritage Site and immerse yourself in the capital's colourful and multicultural shophouses and buildings. If you're looking for a more adrenalin-filled activity, there is also ESCAPE Penang, a family-friendly adventure attraction that has 40 exciting rides and attractions from obstacle courses, ziplines, climbing and diving activities.
Before you head out
It's been a while since we've all been able to travel so be sure to check your passport validity, and keep yourself informed of the latest COVID-19 rules and requirements at your destination, such as travel declaration cards and vaccine certificates.

Weekends, especially long weekends, are usually peak periods so expect the traffic to be heavier.

If you plan to take the highway as you get around Malaysia, keep in mind that some may require toll. We recommend getting a Touch 'n Go card to get through toll gates conveniently.

And last but not the least, always keep safety in mind — lock your vehicle and keep valuables with you or where you can see them. Have fun!