Organised by the NUSS Community Care & Cultural Sub-Committee (CC&C SC), a group of NUSS volunteers spent a meaningful Saturday morning befriending 20 child beneficiaries from the Children's Wishing Well (CWW), one of our two adopted charities, and accompanying them on a shopping trip around IMM mall on 2 July 2022. This trip was followed by a scrumptious lunch at Kent Ridge Guild House.
A unique experience each time
The trip was met with much anticipation as it has been a long time since gatherings of such a scale was permitted, due to COVID-19 safe management measures. Chairperson of CC&C SC, Mr Daniel Chia said: "For Community Care related events, nothing beats face-to-face sessions where you can interact with the beneficiaries. I have taken part in quite a few of the CWW events, and must say that the experience each time is very different."
One of the activities that the CC&C SC has actively participated in is to accompany the young beneficiaries on trips to the supermarket and mall. By interacting with these beneficiaries throughout the trip, volunteers get the chance to impart useful life skills such as budgeting and decision making.
Mr Chia shared that the beneficiary that he interacted with for this session was initially very shy.  Said Mr Chia: "He was reluctant to share what he wanted to purchase for the upcoming Hari Raya Haji celebrations. However, after he became more familiar with me, he started to share what he really wanted to buy." In the end, the young boy brought home a pair of sports shoes and socks, a t-shirt and a water bottle. "The smile on his face just made the whole event worthwhile," added Mr Chia.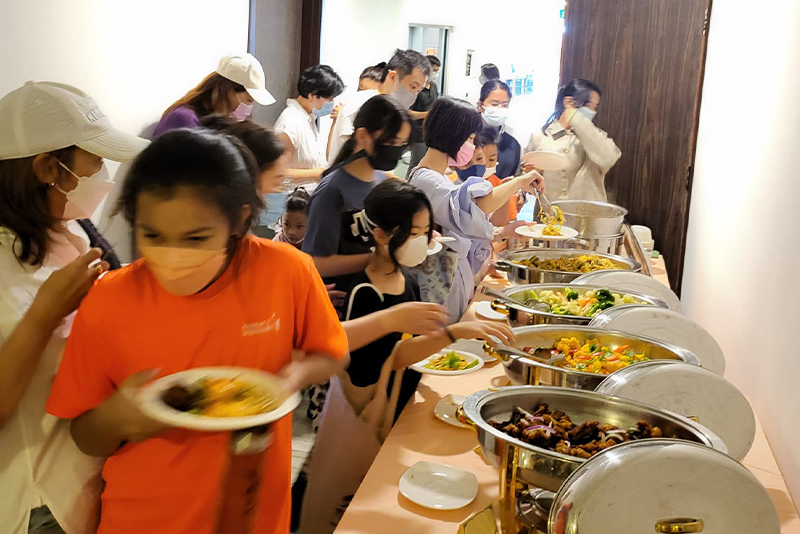 Deputy Chairperson for CC&C SC, Ms Sean Kuan Thye felt that it was a Saturday morning well spent, especially after seeing the children's happy faces. She shared that she was impressed with the young beneficiary assigned to her, an 11-year-old girl who selected items on sale, showing her practicality and determination to use the vouchers wisely.
The child beneficiaries' cooperation in following the prevailing safe management measures ensured that the event proceeded smoothly. MC Member, Mr Jeffrey Khoo said: "It has been a while since we participated as a Society at such a meaningful outdoor event. The young beneficiaries were as exuberant and happy as ever. What was impressive was that the children were rather disciplined and wore their masks properly throughout the entire event."
The opportunity to impart life skills
One of the most fulfilling outcomes of such trips is the opportunity to interact and make a difference in the lives of these young beneficiaries. During the event, Mr Chia shared some practical tips the children could use to improve their examination score in mathematics while Ms Sean imparted words of wisdom on financial planning.
Ms Sean noted that while the CWW team and officer-in-charge were committed to creating development opportunities for the children under their care, they also needed to ensure that the volunteers followed certain guidelines.
"Fairness and integrity are important values to pass on to the children. While they were mindful of the children's needs, the team was firm and reminded volunteers not to exceed the stipulated amount during the shopping trip to avoid unnecessary comparison of some spending more," she added.
Join in and make a difference
Mr Chia firmly believes that, "The more you give, the more you get". Even as the volunteers were there to accompany and guide their young charges, many in turn were also blessed by the company of these young lives.
Mr Khoo noticed the resilience of the youth when it came to managing challenging circumstances during these unprecedented times. He shared: "One of the boys who was assigned to me shared about the financial hardship his parents went through during the COVID-19 pandemic. Children can be surprisingly mature and resilient during difficult times, and I'm sure they will do well in life."
If you have been undecided on whether to participate in NUSS' Community Care related events, we encourage you to step forward and try it out for yourself! Mr Chia shared that there will be an upcoming event on 3 September 2022, in conjunction with NUS Cares (formerly known as NUS Day of Service).
The CC&C team plans to introduce the CWW's child beneficiaries in a variety of sports by engaging the help of NUSS' sports sections. As for the other adopted charity, Dover Park Hospice, the team will be befriending and interacting with the patients and their caregivers through games and performances by the Society's cultural sections.
To indicate your interest in these upcoming events, email Sports & Events Executive, Ms Vivien Pang