Despite challenges ahead, both nations can lead the way especially in the digital and green landscapes.
Australia and Singapore share a long and strong relationship especially in supporting the global trading system. Senior Trade & Investment Commissioner for Austrade, Mr Stephen Skulley was at NUSS to share his insights on the pathfinding nature of this partnership between Australia and Singapore. The event, held on 28 June 2022 at the Della & Seng Gee Guild Hall in Kent Ridge Guild House, attracted over 80 NUSS and Australian Alumni members.
Taking stock of the world today
Mr Skulley highlighted that there had been a surge in insular, protectionist thinking – from vaccine nationalism, to energy and food policies that prioritised national needs. "States are taking unilateral action to advance their perceived interests, including actions outside the rules-based international order. And these actions have the capacity to impact the entire global community. We are seeing this play out now, with Russia's invasion of Ukraine, which has reduced the supply in food and energy, and contributed to global inflationary pressures," he said.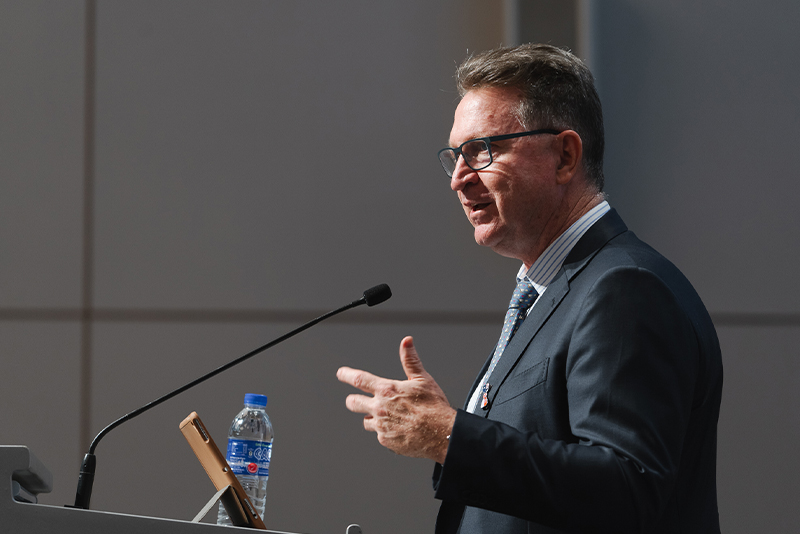 These trading system problems were acute for Singapore which had benefited from an open, rules-based, international trading system and had successfully positioned itself as a trading and investment hub. Resource-rich Australia was also at risk as it relied on open and transparent trade to propel its economic success.
Mr Skulley observed, "So Singapore and Australia face dual challenges: Firstly, a challenge to the open, rules-based trading system, and a new emerging economy, based on digital and green transitions, for which the international rules are still being written."
Trailblazer in the digital economy
Highlighting how the Singapore-Australia Digital Economy Agreement (DEA) and the Singapore-Australia Green Economy Agreement (GEA) were charting a path for global trade, Mr Skulley explained that the 2020 DEA set new global benchmarks for trade rules, and kick-started a range of initiatives to reduce barriers to digital trade.
In addition, there had been greater cooperation to create new systems that take advantage of new digital technologies, and to help small and medium enterprises access these new opportunities.  As part of this, Australia and Singapore signed a series of Memorandums of Understanding (MoU) ranging from data innovation, artificial intelligence, e-certification for agriculture to trade facilitation, personal data protection and digital identity.
For example, under the trade facilitation MoU, the Australian Border Force, the Infocomm Media Development Authority of Singapore and Singapore Customs, along with industry participants (including ANZ and DBS) concluded a blockchain trial that proved successfully that trade documents could be issued and verified digitally across two independent systems. This cutting-edge initiative could significantly reduce transaction costs, and open up new trade opportunities for small and medium enterprises.
Green initiatives and pathways
Mr Skulley went on to highlight that Australia's A*Star equivalent, the Commonwealth Scientific and Industrial Research Organisation (CSIRO) was already working on a hydrogen maritime test bed with EcoLabs, a Centre of Innovation for Energy jointly established by Nanyang Technological University, Enterprise Singapore, and the Sustainable Energy Association of Singapore.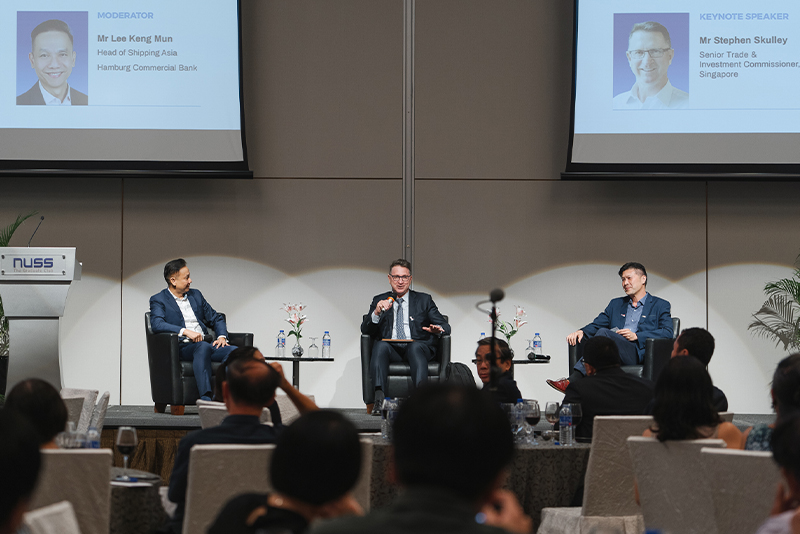 Following a request from the event's moderator, Mr Lee Keng Mun, Chief Executive Officer of Altria Capital Pte Ltd, for insights on the Sun Cable project, Mr Skulley explained that this was a very ambitious and exciting example of how Australia was moving to position itself as a renewable energy superpower and helping Singapore continue its economic growth through reliable clean energy sources. He said that the project involved setting up a massive solar farm in Australia's Northern Territory so as to deliver renewable electricity to Singapore via sub-sea cable.
Adding to the discussion was panellist Mr Joseph Kwok, Senior Manager at China Aviation Oil's Corporate Development & Investment department. Mr Kwok said that Australia had developed very advanced technology but could have made better use of it instead of exporting the technology to take advantage of lower manufacturing costs elsewhere. However, he praised Australia for its focus on hydrogen technology and said that Singapore – as a transport hub – could play a part in its trading and transit.
Tips on setting up business Down Under
During the Q&A session, Mr Skulley touched on the challenges of setting up a business in Australia. He said that being a federation, in addition to federal tax laws, each state had their own tax rules and it would be advisable to consult a tax advisor when setting up a business. He also said that Australia was a "relatively small market" but products and services offered should be "world class" standards to succeed.
On a lighter note, he advised Singaporean entrepreneurs venturing into Australia to get to know Australian sports as it would help them bond with their partners and employees. "On Monday mornings, the talk in the office is all about sporting events over the weekend," he quipped.