On the evening of 13 November 2022, more than 460 members took a musical journey around the world at the NUSS Choir Concert, held at the Victoria Concert Hall. Titled, 'Fantasia Musicale', the attendees were treated to a plethora of songs from different countries and cultures, sung in a variety of languages.
The multi-faceted choral performance was centred around a range of emotions from nostalgia to joy, while the concert's anchor song, "Nella Fantasia", beckoned attendees to dream and hope for an ideal world where people live in peace, justice and freedom.
The dazzling choral display was accompanied by a string quartet, drum and piano accompaniment.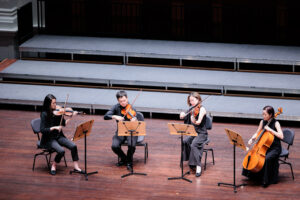 Spirits were high among the NUSS Choir and attendees alike as the group had been restricted from giving public performances for two years due to the COVID-19 pandemic.
NUSS Choir Convenor, Dr Fong shared, "This show comprises almost the full team of the NUSS Choir and much effort has been put in to get the music to concert level, especially by our Music Director, Mr Adyll Hardy."
He went on to elaborate that the evening's concert marked the start of a revival of the Choir's efforts to perform both locally and internationally, of which includes an upcoming music tour in Australia next year.
NUSS Choir Patron and Guest-of-Honour, Mrs Goh Chok Tong was also present for the NUSS Choir's first public performance after the two-year hiatus.
Management Committee member, Mr Mohan Balagopal thoroughly enjoyed the robust performance that evening. He said: "While it was not my first time attending a performance by the NUSS Choir, I was pleasantly surprised with their coverage of local and international pieces, revealing the wide repertoire of our Choir, the musicians and conductor. A lot of energy and enthusiasm was exuded from the stage, and I am impressed by their commitment and dedication to get together and practise during these trying times."
Click here to view photo album on NUSS' e-gallery.