NUS President, Professor Tan Eng Chye, shares his thoughts on continuous learning in an evolving age in a fireside chat with National University of Singapore Society (NUSS) members.
In an age that has seen faster obsolescence of skills and knowledge, and increased uncertainties, and an accelerating rate of change in the workplace, there is the need for universities to shift from the traditional model of Pre-Employment Training (PET) to Continuing Education and Training (CET).
The pertinence of this issue was discussed by NUS President Professor Tan Eng Chye, at a fireside chat held on 9 November 2022 at Kent Ridge Guild House's Della & Seng Gee Guild Hall. He shared that the university is tackling this need by "fundamentally overhauling both our undergraduate and post-graduate models to better prepare our graduates for this more complex and dynamic environment".
More than 80 members turned up to hear his insights on the topic, "Can Learning Become a Lifelong Habit?" The fireside chat was moderated by Mr Lai Kim Seng, NUSS' past president from 2001 to 2005.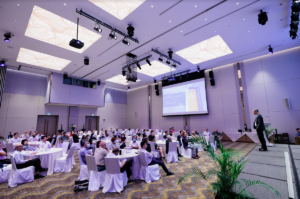 Prof Tan started off by saying that people learn all the time but that NUS will be focusing on the learning of technical knowledge or technical skills and not soft skills. He pointed out that graduates have a higher propensity to learn such skills even if they have left university and have had no contact with technical skills in recent times.
He also noted the progressively blurring line between education and career. "First, you studied. Then, you worked. Today, both are intermingled especially when the external environment is changing very fast and while working you have to update and upgrade yourself with technical knowledge and technical skills. The learning process is spread over your lifetime and not just concentrated within the four years at university," he said.
He also predicted that in future, the model of employment would change. "Our generation is fortunate to have one job for life but our children and grandchildren will be changing jobs many, many times, so how do we prepare them for this?"
Evolving pedagogical models
NUS has already started transforming its pedagogy and is now focusing on establishing a broad-based intellectual foundation and interdisciplinary learning. The aim is to enhance the capability of its students to learn – anything.
A key aspect of its interdisciplinary framework centres on the Common Curriculum, which builds the intellectual foundation that expands the learning capacities of its graduates. The broad exposure across disciplines hones intellectual versatility, empowering graduates to specialise or pursue depth of study in any chosen field in the future.
The Curriculum will be also highly responsive to the demands of the twenty-first century by offering new modules in emerging areas such as digital skills, artificial intelligence and design thinking.
Many structures are already in place. One example is the merger of NUS' School of Design and Environment and Faculty of Engineering into the College of Design and Engineering, leveraging on the deep intellectual overlap between the fields of design and engineering.
Lifelong learning beyond the university years
Prof Tan posed a hypothetical example. A mechanical engineer has worked with a company for 20 years and has not gone through any skills upgrading. Eventually, the company decides to automate and the management then chooses to retrench the mechanical engineer as it is far more affordable to hire a fresh graduate with engineering automation skills.
These are professionals between the ages of 40 to 60 – the very people targeted in retrenchment exercises, said Prof Tan, who also revealed that only 8% of NUS graduates return to do a course within 10 years of their graduation.
NUS' targeted solution to this phenomenon is the Lifelong Learners Programme, where students will be enrolled in the university for 20 years from the point of their undergraduate admission and will be eligible for NUS' wide range of CET courses. This opens up diverse upgrading opportunities to the alumni, which now number more than 300,000.
Started in 2018, this programme offers a comprehensive, curated catalogue of skills-based, industry-relevant courses to address the lifelong learning needs of NUS alumni, helping them to reskill and upskill.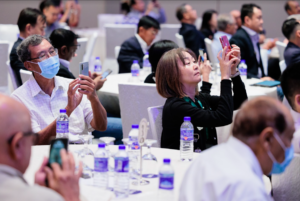 Shifting gear for challenges ahead
This new focus on full-spectrum, lifelong learning will require new tools, platforms and pedagogies, and Prof Tan shared that the university's professors and lecturers will also need to adapt to CET learners, who have many different demands regarding the duration and delivery methodology of the learning experience.
"Also, we need more practice professors who bring industry problems and insights to our classroom. We see exciting space for innovation and rapid adaptation," he added.
"The teaching and learning processes have to change because there is also growing understanding that many of the problems that we face going forward have been described as 'wicked problems'."
The term refers to complex challenges that require both broad perspectives and deep domain knowledge. Often, solutions involve trade-offs, and decisions have to made on the basis of incomplete knowledge. There is also the need for constant adjustment as the situation evolves.
Establishing lifelong learning as a habit
Finally, expressing confidence that a little practice can bring back the innate capacity to learn, Prof Tan urged the audience to find time for learning in daily life, such as setting aside an hour a week to learn something new and eventually cultivating a habit of lifelong learning. Alternatively, they could inject a learning process into a hobby. When playing mahjong for instance, they could push themselves by trying to remember all their tiles as well as the tiles that other players exchange.
NUSS member Ms Irene Hoe, who graduated with an Arts and Social Sciences degree in 1974, lauded NUS for its exceptional commitment to the further education of its alumni.
She observed that it is not easy to learn – especially info-tech knowledge — at an older age, but that while it could take longer for her to learn than younger people, she is keen to invest in her continuing education.