Renowned for its flashy sequin outfits and upbeat dance music, competitive ballroom dancing, otherwise known as dancesport, is an activity enjoyed all around the globe. From Cha-Cha, Samba, Tango to Waltz, dancesport comprises a multitude of dance forms that bring men and women across all ages together in perfect harmony.
With many twists and turns, dancesport demands great strength, agility, and stamina to pull off its elegant and graceful movements. In fact, scientific studies have shown that competitive ballroom dancing can be as equally physically demanding as high-cardio sports like basketball and cross-country running!
Put on your dancing shoes as we check in with Mr Tan Peng Yong, the Convenor of NUSS' very own DanceSport club, to learn more about the world of ballroom dancing.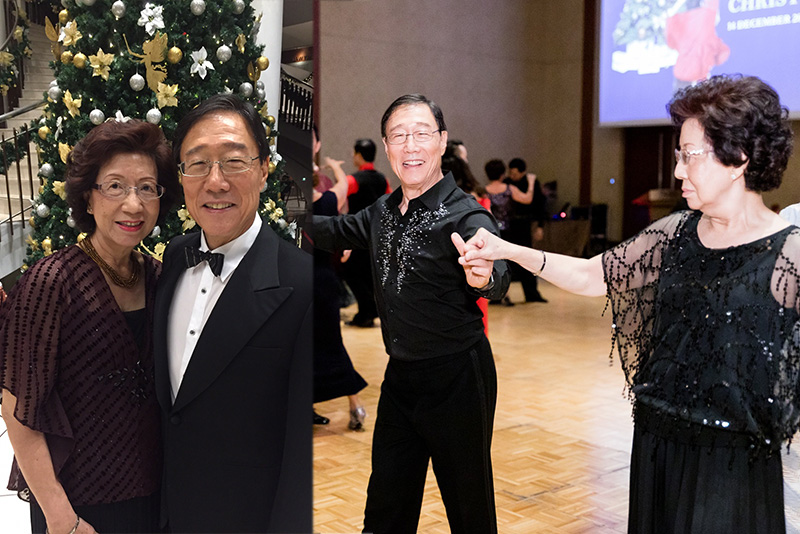 Passion for Dancesport
Peng Yong has been a lifelong fan of ballroom dancing, with over 25 years on the dance floor. His passion for dancesport began many decades ago when he and his wife picked it up together to bond as a couple and stay fit.
In their early ballroom dancing days, the Tan couple aspired to dance to any music that were played in the functions or D&Ds they attended. Over time, they have come to appreciate all the various forms of dancesport but have developed a soft spot for Latin Samba.
Latin Samba is an electric and energetic style of dance from Brazil. A proficient Latin Samba dancer is someone with excellent footwork to keep pace with the fast-percussive beat, who can dish out moves spontaneously based on how the music inspires him.
From its humble origins as a dance form started by former African slaves in sugarcane plantations, Latin Samba has emerged as a mainstream dance form in Brazil, taking centerstage in the nation's iconic Rio Carnivals that attract millions each year.
Misconceptions About Dancing
First, Peng Yong observes that many people think they have two left feet, which holds them back from dancing out of fear of embarrassing themselves. In response, Peng Yong firmly believes that we are all dancers at heart, and our dancing skills will come naturally once we have enough practice and remember to have fun.
He also notes that there is a notion that proper dance techniques are only meant for professional dancers. According to him, technique is the very fundamentals of dancing and especially critical for beginner dancers to master. Having good technique sets a strong foundation for executing any dance skill or movement as it brings out balance, coordination and confidence in the dancer.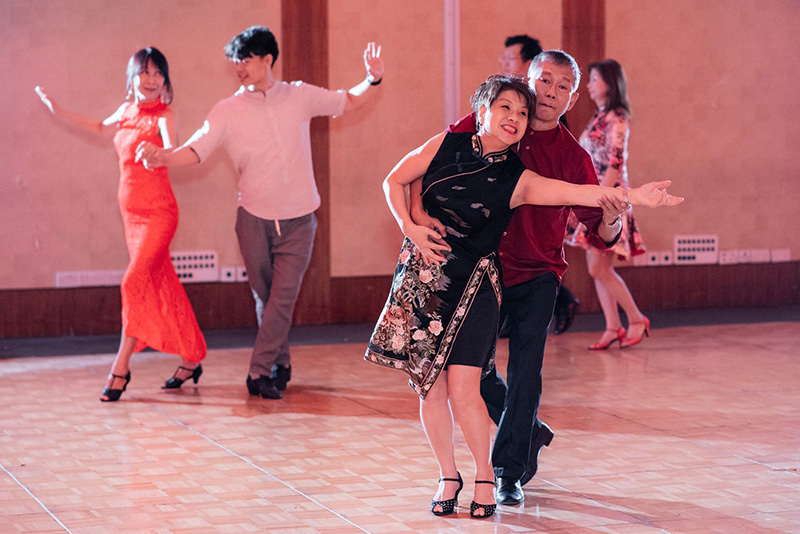 About NUSS DanceSport and Key Activities
NUSS DanceSport is a club 145 members strong.
The club hosts four dinner and dance events (D&Ds) per year which are held in conjunction with Chinese New Year, Summer Festival, Mid-Autumn Festival and Christmas.
Apart from D&Ds, NUSS DanceSport also organises a less formal DanceSport Night every quarter and a Line Dance Jam mid-year on a Saturday afternoon for Line Dance afficionados.
For those looking to brush up on their dancing skills, NUSS DanceSport welcomes all to participate in activities (at a discounted rate for NUSS members), such as:
• Dance Practice Night on Wednesdays
• Line Dance Sharing Session on Thursdays and Fridays
• Social Dance Classes with Certified Dance Instructors
NOTE: Due to the current COVID-19 restrictions, all dance activities are suspended in NUSS premises. NUSS DanceSport Dance Workshops are now conducted on Zoom by professional instructor Sam Fong.
Up for a hearty dance workout for you and your partner? Get in touch with Sports & Events Executive, Natalie Sim for more details on joining NUSS DanceSport.