In this interview series with NUSS' Chefs, we invite you to go beyond the dinner table and get to know the men behind the scenes. Kicking off this series, get to know NUSS' Executive Chef Chester – a humble and hardworking individual who helms The Bistro at Suntec City Guild House (SCGH).
Working hard and being dedicated pays off
Chef Chester originally began his culinary journey in a hotel's pastry department before serving National Service (NS). After his stint in NS, Chef Chester worked his way up the ranks from pastry cook, kitchen cook, sous chef at several establishments, to Executive Chef at Singapore Marriott Tang Plaza Hotel for close to a decade. Also the Executive Chef at Park Regis Hotel for two years prior to joining NUSS in 2014, Chef Chester now oversees the kitchen as Executive Chef at SCGH's The Bistro.
With over 30 years' experience cooking in other renowned hotels such as Hotel Royal and Hilton Singapore hotel, Chef Chester draws from his wealth of knowledge and experience to deliver stellar Western dishes to the tables of our members and their guests.
Forging his own path
While he credits his father (a chief cook at a Chinese restaurant) as inspiration for his culinary endeavours, Chef Chester chose to focus more on pastry making and subsequently, Western cuisine. When asked about his favourite ingredients to work with, Chef Chester cited fresh herbs and seafood.
"Fresh herbs are healthy and great for enhancing dishes. Just a pinch of fresh herbs will highlight the natural flavour of the dish – especially for meat and seafood, and make it aromatic," he explained. "I also enjoy working with seafood as there is a wider selection of flavours and textures, compared to landfood – beef, pork and chicken."
"Thyme is aromatic with a lemony fragrance, which complements meat and seafood well. I also enjoy using Tarragon in the accompanying sauces for seafood and poultry," he added.
Fresh herbs also played an important role in the dishes he helped to fine-tune over at The Bistro, namely the spicy Seafood Aglio Olio and Ribeye Steak – two menu mainstays and perennial favourites among members.
Being able to handle the heat
Even as he enjoys sharing his passion for food with others, Chef Chester lets us in on some challenges he faces at work.
From the creation to plating of each dish, consistency is a critical component. Close attention to detail and focus are important traits as chefs "need to be consistent in terms of food," says Chef Chester. Because close teamwork is required at any kitchen, it poses a problem when someone leaves. "Staff retention is a challenge. When a staff leaves, the team may be busier due to being short-handed. And training new staff also takes time."
Indeed, keeping a cool head amid immense pressure and busyness at a restaurant is no easy task!
Recreating a Bistro favourite
As a parting gift, Chef Chester has shared the recipe to his spicy Seafood Aglio Olio so our readers can bring a little bit of The Bistro into their homes as well. If you would like to catch Chef Chester in action, join our "In the Kitchen" online series this Saturday afternoon (29 May 2021, 3pm to 4pm), where he will demonstrate how to rustle up this dish, as well as a succulent Ribeye Steak! Click here to register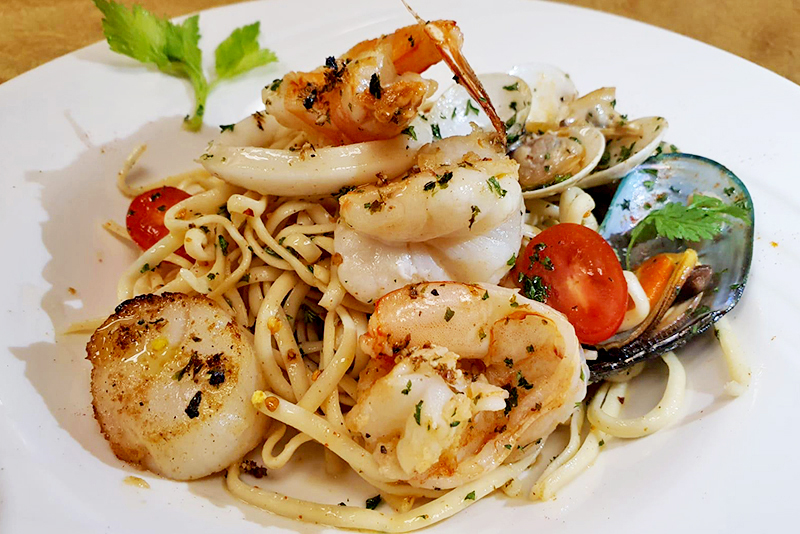 Seafood Spaghetti Aglio Olio
Ingredient list
Large Prawns (tiger prawn)
Scallops
Green / Blue Mussels
White Clams
Extra Virgin Olive Oil
Garlic Cloves (sliced or chopped)
Fresh Basil
Spaghetti
Fine Salt
Fresh Ground Black Pepper
Chilli Padi (chopped)
Italian Chopped Parsley
Method:
Fill a large pot with slightly salted water and boil it. When the water boils, put your desired amount of spaghetti and cook it for about 7-8 minutes. Stir occasionally and boil the pasta till it's cooked and firm. After which, drain out the pasta and set aside in a pasta bowl or plate.
Using a large skillet or pan, heat up the pan and add in olive oil and garlic over medium heat. Cook till the garlic is golden brown.
Set seafood aside, pour in a bit of water or chicken stock into the skillet/pan and simmer it. Season the stock with salt, pepper and sprinkle with a dash of parsley and fresh basil to enhance the flavour of the stock.
Place the seafood back into the pan and toss it together with the pasta.
Sprinkle a dash of parsley and fresh basil for flavour before serving.
Lastly, place pasta onto a serving bowl and arrange the seafood on top of the pasta. Drizzle with a dash of olive oil and serve immediately.