In this interview series with NUSS' Chefs, we invite you to go beyond the dinner table and get to know the men behind the scenes. In this entry, get to know Chef De Cuisine, Daniel Ho, who oversees the F&B operations of The [email protected], at Mandalay Guild House (MGH).
A familiar face around NUSS
If he seems familiar to you, chances are you might have come across Chef Daniel, or at least his culinary work in other Guild Houses. Upon joining NUSS in 2008, he was the head chef at The Dunearn, a firm favourite among long standing members. The hearty Western cuisine served up by Chef Daniel and his team had members and guests flocking to Bukit Timah Guild House (BTGH) until it was closed and reclaimed by NParks in 2017. The food left such a strong impression among the members that many encouraged the chef to recreate certain classics when he went over to Suntec City Guild House. "Some guests came by and told us that they really miss the food at BTGH," he recalled fondly. "I felt really appreciated and honoured to receive such feedback."
Leveraging on his expertise, the kitchen maven was later brought on board to establish and set up The [email protected] when MGH opened in 2019.
A tribute to dad
Helping his late father in a family-run eatery in the 1970s sparked his interest in food and paved the way for the budding chef. "My dad owned a shophouse along Tanjong Pagar selling local food. At a young age, the family would help in the food preparation and serving," he shared of his younger days. "He was a self-taught chef without any formal training. I admired his determination in learning how to cook and setting up a business based on this new skill."
Shaping his own path
Post National Service, a young Chef Daniel started his first job at Furama Riverfront hotel as a cook for Chinese food. Subsequently, he went on to Le Meridien Singapore and Mandarin Oriental Hotel where he got to expand on his culinary repertoire.
Delving into other cuisines was the gateway into discovering his niche as a chef and a passion for Western cuisine. "I was inspired by the attractive presentation, and how clean yet flavourful the dishes were," he confessed.
For a flavourful and wholesome meal, he swears by the usage of onions and fresh herbs. "Onions are versatile. When cooked well, it can enhance the flavour and sweetness of stocks and sauces. When used on meat, it has natural enzymes that will break down proteins, so the meat becomes extra tender," he explained. "That's why I like to use it in my cooking. I also love eating onions!" he quipped with a laugh.
When preparing a poultry or fish dish, Tarragon is his go-to herb for its versatility and freshness. However, for lamb or fish, he enjoys adding Basil as it elevates the flavour of the meat without overpowering it.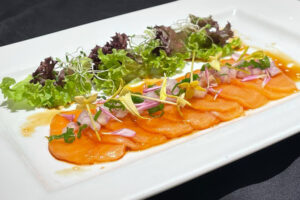 One of the dishes he helped to put together for the [email protected] is the Salmon Carpaccio. The refreshing appetiser features thinly sliced salmon ceviche, fresh greens and one of Chef Daniel's favourite ingredients – fined chopped onions. For an Asian twist, this cold appetiser is paired with truffle shoyu dressing.
Essential ingredients to being a chef
When asked what important attributes to have as a chef are, Chef Daniel said: "Passion for food and the job is important. These are two traits that kept me going and improve when I started out as a cook myself." He explained that a chef that is passionate about the job will have the continual interest in hone his/her skill and improve.
"You need to be open to criticism and change. Just because you are a chef for a long time, does not make you 'super'. You need to listen to people's feedback in order to improve and learn. If you just treat this as a job and do the bare minimum, you will never improve."
"A lot of patience is also important as it is easy to lose your temper when dealing with the pressure of multiple orders," he added.
A recipe for this weekend
Chef Daniel shares his recipe for a quintessential British-Hainanese dish, Braised Oxtail Stew. Do tag us on social media if you attempt to recreate this dish!
However, if you find it too daunting, why not order Oxtail Stew from The [email protected] and taste the sensational flavour for yourself?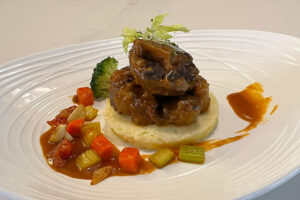 SLOW BRAISED OXTAIL STEW
Ingredient list
2kg of oxtail
4 carrots, peeled and diced
1 white/yellow onion, diced
2 stalks of celery, cut and diced
5 cloves of garlic, cut and sliced
3 pieces of bay leaves
2 sprigs of fresh thyme
1 cup of red wine
300gm tomato pronto (concentrated tomato sauce)
3 tablespoons of tomato paste
3 litres of chicken stock
Salt and pepper
Method:
Season the meat with salt. Set a large pot over high heat and brown the oxtail in batches.
Remove the oxtail and set it aside. Add in onions, celery and carrots into the pot and cook until a light golden brown.
Add in tomato paste, garlic and herbs and sauté lightly for a minute.
Add in the red wine and simmer for awhile to reduce it slightly.
Add the oxtail back into the pot and pour tomato pronto in.
Pour in enough chicken stock to cover the oxtail completely, and reserve the rest for later. Seasoning the dish to taste with salt and pepper.
Bring the mixture to a boil then reduce the heat. Cover the pot and let it simmer gently for 2.5 hours. Check every half an hour and top up with more stock if needed.
In the last hour of cooking, remove the lid and allow the sauce to reduce further.
Serve the soft oxtail stew with mashed potatoes.