In a world with unlimited views and perspectives, how do we discern if our view is the right one? As the art exhibition 'Incomplete Perception' at Kent Ridge Guild House's Art Gallery drew to a close, members and guests gathered for an intimate guided on-site tour on 29 June 2022. This guided tour presented a unique opportunity for members to hear from the artist, Ms Nyein Su, about her inspiration and story behind each painting and appreciate the pieces up-close.
Convenor of NUSS' Art Connection and Chief Executive Officer of Singapore Chinese Cultural Centre, Mr Low Sze Wee, was also present to moderate the evening and facilitate this cosy meet-and-greet.
Art has been a long-time passion
Ms Nyein Su's artistic journey was not exactly linear. Upon completion of her computer science degree in Yangon, Myanmar, Ms Nyein Su began her art journey through the study of art, specialising in watercolour and began contributing to many exhibitions. She explained that watercolour painting has a strong tradition among Burmese artists due to its British influence.
In 2010, she was offered a scholarship to study at Nanyang Academy of Fine Arts (NAFA), where she specialised in Western Painting and portraiture. While finishing her arts diploma, the young artist competed and stood first in the ACR art competition in 2011, and later in 2013, participated in NUSS' Paint-A-Portrait commission project.
In 2014, she founded Art Village Gallery and Studio in Singapore. In addition to running the Art Village Gallery and Studio, she continues to contribute to the art scene by participating in numerous group exhibitions both in Singapore and internationally.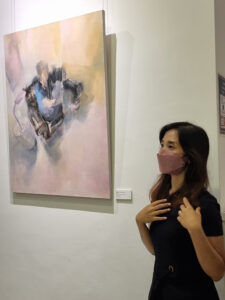 More than meets the eye
As the political developments of her home country, Myanmar, lie close to her heart, many of her works depict themes of its current and past political concerns, offering viewers a unique and deeply personal look into the artist's perspective on this topic.
That evening, the attendees were invited to reflect upon the current political landscape in Myanmar and its ramifications on the citizens. However, at first glance, many viewers may not realise the paintings' original intention as the artist prefers not to make her paintings overtly political.
Working primarily with watercolour and oil media, Ms Nyein Su's combination of strong and fine brushstrokes, and striking colours conveyed her intended mood and dynamism of the painting. She deliberately created ambiguity by leaving faces undefined, with just enough brushstrokes for viewers to make out the essential details of each painting and beckoning viewers to find out more.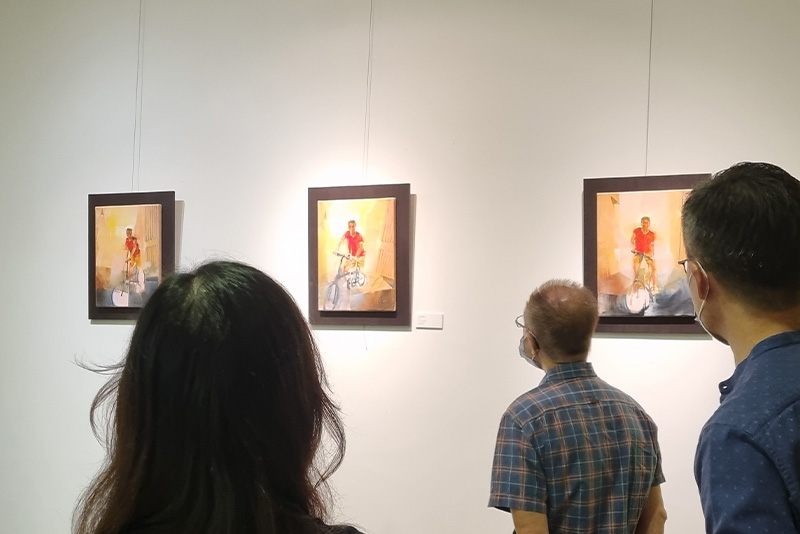 Her thoughts on art appreciation
When asked about what was the best way to approach and appreciate an art piece, Ms Nyein Su suggested to take a couple of minutes to experience and look at the artwork mindfully. Be open to the thoughts and emotions that come with the painting, and think of its possible interpretation so you can form your own opinion first. After which, look at the accompanying labels and text for the title and explanation of the art piece for a better context.
Moving forward
After a candid discussion on the exhibition, the party adjourned to the nearby Café on the Ridge. Over some light refreshments, the group enjoyed some friendly conversation on their personal experiences with art and more.
Keen to check out more of Ms Nyein Su's work? She will be participating in an upcoming installation at the White Space Art Asia's gallery on 29 July. The exhibition will continue until Sunday 28th August, 2022.