Has the long hiatus made your travel skills rusty? Read this refresher before you go on your much-awaited trip.
Imagine this: it's your first overseas holiday in a long while, you're feeling carefree and are all smiles as you arrive at the hotel. You're at the reception desk and they tell you they can't find any booking under your name. A chill runs down your spine when you realise you have been scammed with a fake hotel booking.
Don't ruin your well-deserved vacation by falling prey to tourist scams! Here are 10 of the most common ones with tips on how to avoid them.
Accommodation
Third party online platforms touting lower accommodation rates are all over the Internet. While it is tempting to secure your hotel or accommodation through these sites, take the time to fully research the site's credentials before making any bookings, especially if it is not one of the more established travel and ticketing websites.
If you are booking directly on the establishment's webpage, check to ensure that it's a registered business and really exists, and if the visuals on the website match that of the actual accommodation. To do that, look for reviews outside of the website, say social media or even Google reviews, to check recent uploads by fellow travellers. After your trip, pay it forward by writing your own review to help other tourists!
Fake PCR tests
Travelling in a post-pandemic world means travellers have to keep some COVID-19 rules in mind. While some countries have relaxed their rules and only require travellers to produce a vaccination certificate, there are some that still require proof of a negative COVID-19 test, usually a PCR. Scammers have jumped on the chance to make a quick buck off unsuspecting tourists, conning them into taking fake tests to obtain fake certificates. Safeguard yourself by checking official government websites and reading embassy notices for the latest COVID-19 requirements and for a list of approved pharmacies to purchase legitimate PCR tests from.
Public WiFi
It is quite common for accommodations and establishments, like cafes and malls, to offer guests free access to WiFi as a value-add convenience. However, keep in mind that shared public hotspots are not as secure as your private home network because public connections are not encrypted. In short, the device you are using to access the public WiFi, be it your mobile phone, tablet or laptop will be vulnerable to malware or hacker attacks. The rule of thumb when using public internet connections is to avoid keying in any confidential data such as credit card or bank details.
Photography services
Head to any landmark tourist hot spot and you will probably spot photographers offering their services — if they have not spotted and approached you first. On top of being unofficial, these are also usually overpriced with a lot of hidden costs. The golden rule to remember is that most tourist landmarks do not have any 'official' photographers and hardly restrict photography.  Prepare yourself by reading reviews online so you'll know the rules at that attraction. When in doubt, ask an employee for advice.
Transportation
Illegal or 'pirate' taxis have been known to take advantage of tourists by charging them exorbitant fares and intentionally taking longer routes to increase the metered fare amount. In Bangkok or Phuket, it is also quite common for some tuk tuk drivers to take tourists to shops they are in cahoots with to get tourists to spend on overpriced goods.
Be diligent when arranging your transportation by researching the route in advance via Google Maps so you will have a general idea of the distance. Where possible, pre-book your taxi using reputable and official transport providers. It might cost more but you have peace of mind If you can, avoid flagging taxis from the street as it may be hard to differentiate between legitimate and fake taxi companies.
Changing currency
Here, tourists are either short-changed by getting fake exchange rates, or worse, greatly cheated out of their money by getting fake currency. Prevent this by only using well-established currency exchange companies and verifying their credentials. Be wary of exchange rates that seem unrealistic. Keep your personal information secure and do not share passwords or bank details with anyone, and always keep a record of all your transactions to spot discrepancies.
Free tours and excursions
While the tour itself may be free, some of these come with a hidden agenda. These free tours are just a front for scammers to bring tourists to shops with inflated prices where they are pressured to make purchases. In Asian countries, these shops are usually jewellery or gem stores.
If you are ever caught in this situation, do a quick online search of the establishment and look for its certification. Before making any purchases, examine the jewellery closely and be wary of sales tactics that try to rush you into purchasing the product. It would also help to know the market price of the item you are looking for.
Pickpockets
Pickpockets have an arsenal of strategies. Some even go as far as posing as police officers to do spot checks and money could vanish from your wallet or handbag. Others may act merely as a form of diversion by striking up a conversation with you and keeping you distracted while an accomplice picks your pocket.
Safeguard yourself by not carrying large amounts of cash and never surrender your valuables to anyone. If your instinct tells you that something is not right, ask for their official police identification or offer to go down to the police station. Perhaps, even call the police authorities to verify.
Cheap massages and spas
Massage and spa parlours are a popular resting point for travellers, and these are in abundance in popular tourist destinations around Asia. These places usually tout cheap massages but always be wary if the price seems too low. This is a tactic used by scammers to pressure tourists into paying more for additional services — usually ones they didn't ask for.
Always research and check the massage or spa establishment ahead of time by reading reviews. Better yet, ask for recommendations from friends. When you're there, look for official certifications and don't be swayed by low prices. Negotiate the exact service and final price before confirming a service to avoid any hidden charges.
Fake tickets
This usually involves unsolicited offers where scammers approach unsuspecting tourists on the street offering tickets to attractions. This is also common during high-profile events such as festivals or concerts. These tickets are often bogus.
Always buy tickets from credible sources such as official websites, ticketing offices or authorised vendors. While some scalpers may be selling authentic tickets, they are also known to inflate prices. Authentic tickets usually have security features such as watermarks or holograms so be sure to check for those if you must purchase from third party sources.
Remember, if any offer seems too good to be true — it probably is. So, keep these tips handy and travel safe!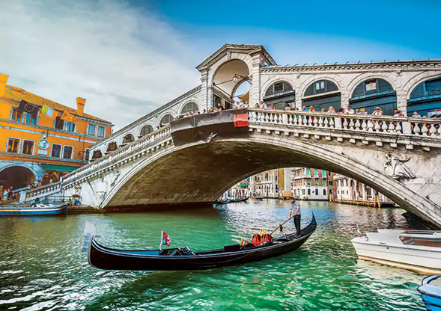 Sign up for our 10-day Oceania Cruise in October to explore Italy, Greece and Croatia on board a luxury cruise liner – The Riveria. Find out more here.