Some of us may have experienced a sharp pain at the heel of the foot when rising from bed in the morning or felt discomfort after wearing covered shoes over a long period.
To find out more about common foot problems and possible treatment methods, NUSS members and guests were at the Kent Ridge Guild House Della & Seng Gee Guild Hall on 31 March 2022 to learn from speakers senior consultant Dr Chee Yu Han, National University Hospital (NUH) Department of Orthopaedic Surgery (Foot & Ankle Surgery Division), and podiatrist Mr John Chen from NUH's Rehabilitation Centre. The talk was moderated by Associate Professor Wilson Wang and Dr Bryan Koh, also from NUH.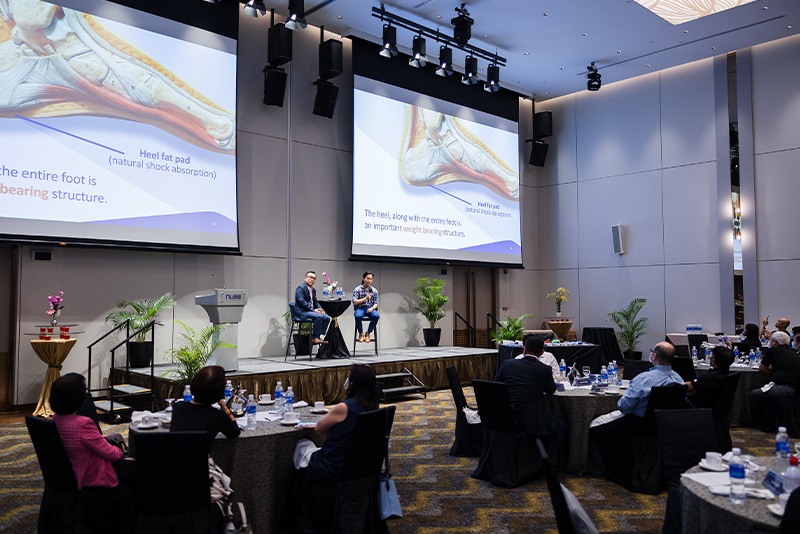 In case you missed the session, here are some useful takeaways from the NUH team.
Importance of healthy feet
As our feet are constantly in contact with the ground, they serve as a foundation for standing and balance, crucial for one to be mobile. With mobility, individuals enjoy the freedom to do what they want, such as socialising with friends, participating in exercises or bonding with their families.
Most lower limb injuries arise from overuse and stress beyond what one's body can tolerate. Every body tissue has a tolerance and one's muscles and tendons have been designed to be stretched and used up to a certain limit. The flipside, however, is that too little stress and load may lead to weakness in the muscles and tendons predisposing one to injury.
Although a single shoe type may be worn for multiple activities, there are pros in wearing different shoes because different muscle groups get activated, which may play a role in lowering the risk of injury.
Treatment options
Not all conditions require surgery – the majority can be managed once a proper diagnosis is established. Surgical intervention is usually considered only if the individual does not respond well to conservative treatment strategies.
Some conditions such as severe ankle sprains with instability (due to torn ligaments or tendons), painful and worsening flat feet, as well as bunions and fractures with bone displacement, require surgery as the main treatment method, which is performed with minimal risk. The goal of the treatment is to remove the harmful elements and incorporate what is beneficial to ensure the level of stress being placed on a tissue is within its tolerance range.
Having flat feet is not necessarily a bad thing as not everyone with flat feet will develop foot problems. There is no universal ideal foot posture that is deemed best for everyone.
Managing common foot and ankle problems:
1. Plantar Heel Pain
• Wear something to cushion and provide shock absorption beneath the heel (e.g. silicon heel cups, padded socks, cushioned liners)
• Wear footwear with a heel raise of 1cm
• Engage in high-load strength training
• Massage the plantar fascia with a spiky massage ball 10 minutes a day
• Calf stretching
2. Bunions
• Wear wider-fitting footwear
• Ensure half to a full thumb width from the top of the longest toe to tip of shoe to accommodate movement and swelling
• Ensure the foot is not bulging or overhanging midsole
• Ensure toes are splayed out, not bunched up together
• Re-lace shoe to release tension across fore-foot and mid-foot
• Wear forefoot rocker footwear (e.g. Hoka One One Bondi or Clifton, Masai Barefoot Technology (MBT), Asics Glideride)
• Wear toe separators (with cross over toe)
3. Flat feet
Shoe rotation helps to minimise the risk of lower limb overuse injury by stimulating different muscles in the lower leg. Select footwear with:
• Dual-density midsole (positioned at the inner part of the shoe, beneath the arch and rearfoot)
• Broader and wider fitting
• Heel height differential of around 1 cm
• Removable sock liner
4. Ankle sprains
• Apply POLICE (Protect, Optimal Loading, Ice, Compression and Elevation)
• Wear an external ankle support (e.g. ankle strap, ankle brace, high-top shoes)
• Apply lock lacing technique for shoes
• Avoid uneven surfaces, high intensity and high impact activities
• Go for ankle rehabilitation
5. Gout
• Treatment starts with prevention, medicine and rarely involves surgical intervention
• Drink more water, less alcohol
• Choose a low fat and low protein diet, include cherries, blueberries, purple grapes (contain antioxidant pigments) and coffee.
• Take more Vitamin C
6. Ingrown toenails
• See a podiatrist to remove the nail spike
• Avoid ill-fitting footwear
• Apply antiseptic dressing and avoid trauma to the area
If more support is required, the individual is encouraged to seek podiatry or orthopaedic foot and ankle services for professional advice about their specific foot condition. Click here for more information on rehabilitation and tips.