Relish savoury salads packed with the goodness of nature.
A salad a day keeps the doctor away and the Kent Ridge Guild House's Café on the Ridge has a fine selection of unique salads on its menu.
If you're looking for a healthy way to slim down, try the Black Bean and Quinoa Salad ($12.50). Rich in dietary fibre, protein and potassium, it satiates your hunger without increasing calorie intake. With a power-packed combination of quinoa, portobello mushroom, diced tomatoes, black beans, assorted vegetables and sesame dressing, this meat-free salad is ideal for vegetarians or people looking to reduce their meat intake.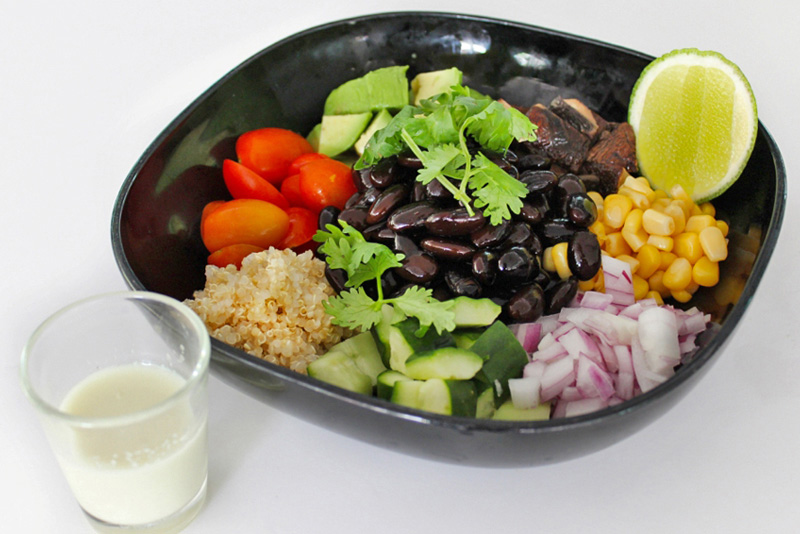 For another easy way to a nutritious meal, try the Salmon Tataki Salad ($14.50), packed with good cholesterol and a good source of protein, vitamins and minerals. The seared salmon with brown rice and combination of fresh crunchy vegetables, topped with mentaiko mayonnaise, makes for a highly satisfying lunch or dinner option!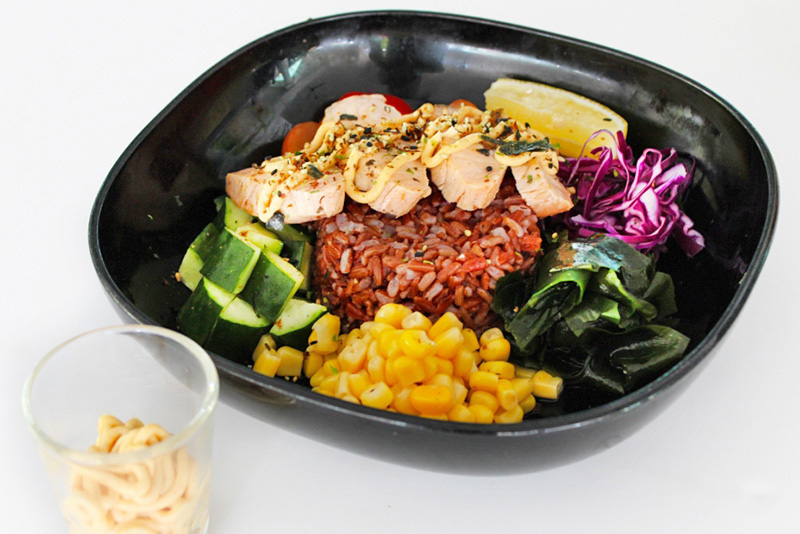 To savour these delightful salads and more, head over to Café on the Ridge, or simply order here
You could also DIY
Do-it-yourself salads are another option. Here are five salad recipes that are delicious and nutritious and can be prepared in under 20 minutes by even an amateur.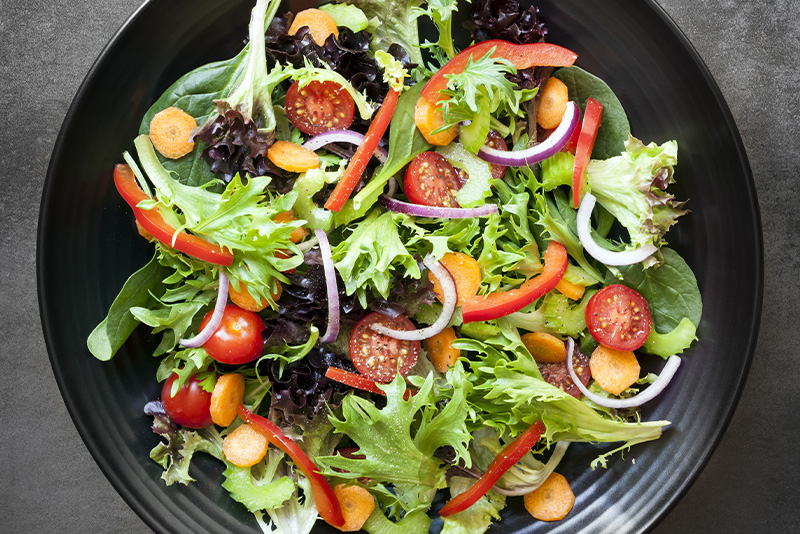 English Garden Salad
This popular salad features vegetables straight from an English garden like baby carrots, asparagus, iceberg lettuce and beans. And it is super easy to make, besides being extremely healthy. You don't need to be a vegetarian to love it!
Ingredients
For the salad:
Baby carrots, blanched: 5
Cherry tomatoes, blanched: 11
Asparagus: 5
Watercress: 5
Iceberg lettuce: 1 cup
Cucumber, thinly sliced: 3
Peas and broad beans, blanched: 1/2 cup
Parsley leaves: 1 small bunch
Celery sticks, thinly sliced: 3
Feta cheese, crumbled: 1 cup
Salad dressing:
Sugar: 15 g
Salt: 10 g
White pepper: 1 pinch
Dijon mustard: 20 g
White wine vinegar: 1 tbsp
Olive oil: 30 g
Double cream: 300 ml
Classic vinaigrette:
White wine vinegar: 60 ml
Extra virgin olive oil: 240 ml
Salt: To taste
Garden salad salt:
Combine sea salt flakes, lemon and lime zest together
Method
Place all the salad ingredients together in a large bowl.
Make the salad dressing. First combine salt, sugar, Dijon mustard, white wine vinegar and white pepper in a bowl.
Slowly whisk in double cream to the mixture, followed by the olive oil. Once combined, check seasoning and whisk further to the right consistency.
Pour the salad dressing on the salad, tossing the leaves, tomatoes and feta cheese so that they are evenly coated.
Create the classic vinaigrette by whisking the ingredients in a bowl.
Drizzle the vinaigrette over the salad.
Finally, season with garden salad salt.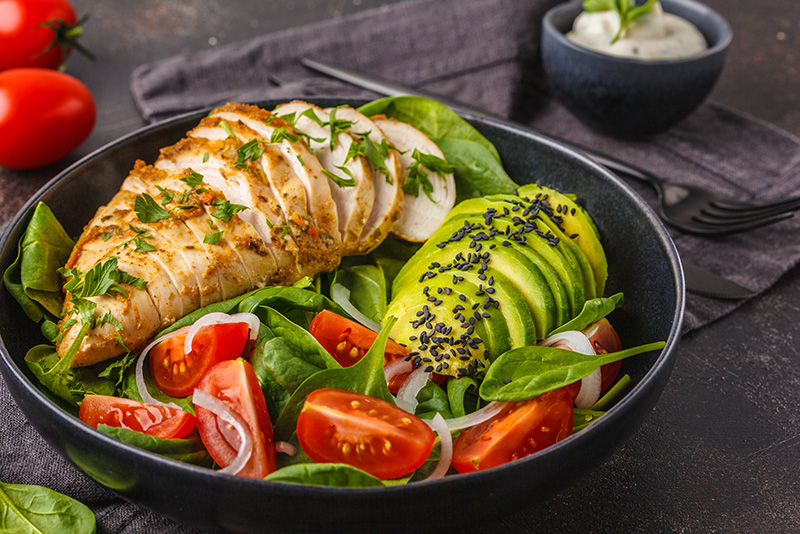 Spinach Salad with Chicken and Avocado
Spinach is rich in iron, vitamin C and E, potassium and magnesium, while avocado is a good source of B6, vitamin C, potassium, vitamin E, folate and copper. The combination is just unbeatable. If you are looking for a tasty way to boost your health, this might be just what you need!
Ingredients
For the salad:
Pine nuts: 1/4 cup
Spinach, chopped: 8 cups
Cherry tomatoes, halved: 1 cup
Chicken, cooked and chopped: 1 1/2 cups
Avocado, peeled, pitted and sliced: 1
Corn kernels: 1/2 cup
Feta cheese, crumbled: 1/3 cup
Salad dressing:
White wine vinegar: 3 tbsp
Extra-virgin olive oil: 2 tbsp
Dijon mustard: 1 tbsp
Salt and ground black pepper: To taste
Method
Heat a small skillet on medium-high heat and toast pine nuts until lightly browned and fragrant.
Put spinach in a large salad bowl; top with pine nuts, tomatoes, chicken, avocado, corn kernels and feta cheese.
Beat white wine vinegar, olive oil and Dijon mustard together in a small bowl until smooth; season with salt and pepper. Drizzle dressing on top of the salad and toss lightly to coat.

Bacon Caesar Salad
This is a good way to bring home the bacon! Filled with the goodness of romaine lettuce, besides tasty bacon strips and delicious parmesan cheese, this salad is definitely one you should try at home!
Ingredients
Croutons: 2 cups
Olive oil: 2 tbsp
Garlic cloves, sliced: 3
Salad dressing:
Olive oil: 1/2 cup
Lemon juice: 1/4 cup
Dijon mustard: 1 tbsp
Garlic cloves, minced: 3
Anchovy paste: 1 1/2 tsp
Pepper: A dash
For the salad:
Romaine, torn: 1 large bunch
Bacon strips, cooked and crumbled: 4
Parmesan cheese, shredded: 1/2 cup
Method
In a large skillet, add garlic and cook croutons until golden brown. In a small bowl, whisk the oil, lemon juice, mustard, garlic, anchovy paste and pepper.
In a serving bowl, combine romaine and bacon. Drizzle with dressing and toss to coat.
Sprinkle with croutons and parmesan cheese.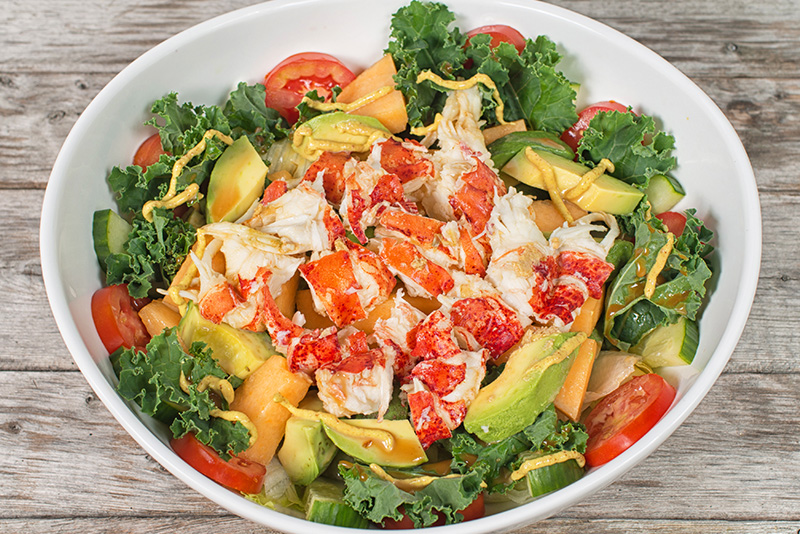 Classic Lobster Salad
Lobster is a good source of protein, vitamin E, magnesium, zinc, and phosphorus and combined with avocado and lettuce leaves makes for a great way to good health. On the plus side, it is low in saturated fat and a good way to watch your weight!
Ingredients
Cooked lobster meat, diced: 500 g
Fresh lemon juice: 1 tbsp
Celery, thinly sliced: 1/2 cup
Mayonnaise: 4 to 6 tbsp or more
Kosher salt: To taste
Black pepper, freshly ground: To taste
Mixed salad greens or lettuce leaves: 1/2 cup
Avocado, peeled, quartered, and brushed with lemon juice: 1
Tomatoes, sliced: 3
Cucumber, sliced: 1
Method
Toss the cooked, diced lobster meat with lemon juice and celery.
Gently stir in mayonnaise and then season with salt and pepper, to taste.
Put the lobster salad on lettuce leaves with a wedge of avocado, cucumber and tomatoes.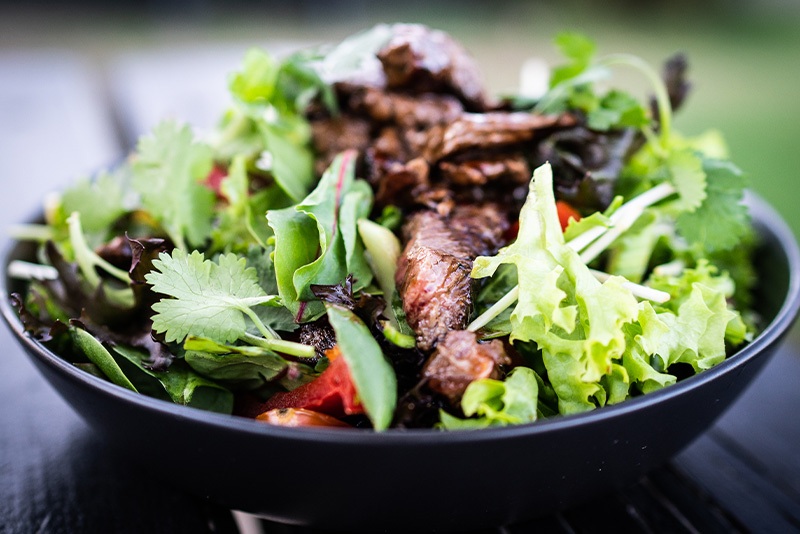 Thai Beef Salad
This salad is a good source of vitamin B12, zinc and selenium, besides being rich in protein and vitamin A. Definitely a tasty way to beef up your health with minimum effort!
Ingredients
Cucumber and Daikon Radish, ends trimmed, halved widthways and spiralised into thin noodles: 1 each
Steak: 250 g
Sunflower oil: 2 tsp
Beansprouts: 100 g
Coriander leaves: 1 small pack
Salad dressing:
Garlic clove, crushed: 1
Fish sauce: 1 tbsp
Soft brown sugar: 1 tbsp
Lime, zested and juiced: 1/2
Red chilli, finely chopped: 1
Method
Mix all the dressing ingredients, stirring until the sugar has dissolved. In a large bowl, toss the cucumber and radish with half the dressing.
Rub the steak with the oil and season it on both sides. Heat a frying pan and fry the steak for 2-3 minutes on each side.
Pile the vegetables onto plates and mix with the beansprouts and coriander. Top it with the steak and remaining dressing.