Three business leaders share valuable insights in a fireside chat on how Asians can succeed in the post-COVID era.
On the evening of 8 June 2022, a Fireside Chat titled "Challenges of Overcoming Adversity and Succeeding as an Asian in The New World" was conducted at Kent Ridge Guild House's Della & Seng Gee Guild Hall. The cosy session featured Ms Lu Zhang, Ms Chong Phit Lian and Dr Philip Wong. Drawing from the experience of navigating through their respective industries, the panellists shared their views on what it takes to succeed in life. The engaging session was moderated by Mr Ng Teck Wee, the Chairperson of NUSS' Intellectual Pursuit Sub-Committee.
Embrace a "take-charge" mindset
A World Economic Forum Young Global Leader (Class of 2018), Ms Zhang Lu is the Founder and Managing Partner of Silicon Valley-based Fusion Fund, proven serial entrepreneur and venture capitalist with multiple successful investment exits. She has garnered accolades including Featured Honoree in Venture Capital of Forbes 30 Under 30 (2017), Silicon Valley Women of Influence (2018) and Best 25 Female Early-stage Investor by Business Insider. She received her Master of Science in Materials Science and Engineering from Stanford University. Highly motivated with the desire to change the world, she shared that improvement can only happen when people "consistently disrupt themselves".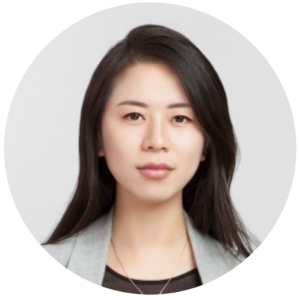 "In my mind, there are three types of people. They are those who make things happen, then those who merely watch things happen, and lastly those who wonder what had happened," highlighted Ms Lu.
People have to develop channels and resources to make things happen, consciously avoid watching the world go by or risk becoming someone who can only remark "What just did happen?"
On the subject of overcoming adversity, she admitted that there were a few times when people had biases when they first met, because of her age or gender but they changed their opinion and attitude after establishing initial communications. Ms Lu explained, "The good thing about Silicon Valley is that we all have seen young successful founders and female leaders, so I'm not necessarily a "new category."
As a mixed Mongolian and Han Chinese, she was a minority in China and faced discrimination in the US but being "super passionate" helped her to transition from researcher to sole entrepreneur while studying at Stanford and then to venture investor. She said, "It is in my personality not to be afraid of challenges."
She also said that she had difficulty in raising capital so she had to be "super-efficient".  Her advice to those who want to become entrepreneurs and venture capitalists is,
"Sometimes, your personality is more important than your capability to do a start-up, and you need to make sure that this is what you really want. Once you have made the decision, don't worry about other people's opinion. Just follow your heart to fight for your dream."
She had also noted that while Westerners have high self-confidence, Asians are generally humble which is an important advantage as Asians tend to self-reflect and consistently seek improvement in their individual lives.
The tenacity to overcome obstacles
Ms Chong shared her life experiences, gained from having worked more than five decades in a wide spectrum of industries including precision engineering and manufacturing aviation and technology.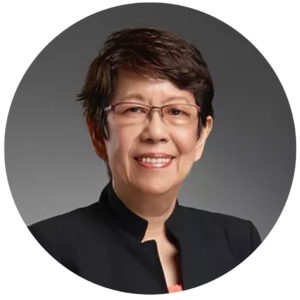 Presently an Independent Director of Rokt, an e-commerce marketing software provider, Ms Chong also serves as a Corporate Advisor to Temasek International, and an Independent Director to Singapore Polytechnic International, Singapore Science Centre Global, Mandai Global and Eu Yan Sang.  Other leadership positions and directorships she held include CEO and board member of Singbridge Corporate, CEO and board member of Jetstar Asia Airways and Valuair, CEO of Singapore Mint and Singapore Precision Industries.
As a young girl living in a small town in Johor, her earliest motivation was "to stay in school" as her father did not believe in women spending time and money to study. Her financial situation worsened with the passing of her father.  "Money was always short and while studying in a polytechnic in Singapore, I moonlighted at various jobs to pay my expenses," she explained.
Despite the challenges, Ms Chong proceeded to earn a Bachelor of Science (Hon) degree in Production Engineering and Manufacturing Technology and Master in Business Administration.
In her early years, she aspired to be an air hostess but did not qualify.  She also toyed with the idea of getting a pilot licence but that too did not materialise.
"My advice is to stay resilient and don't let constraints hold you back." She then cited that despite these initial setbacks, she went on to be a CEO of an airline.
Ms Chong's takeaway for the audience was to remind them that there is no end to the learning process.
"Keep acquiring new knowledge and experiences. There is always more to learn.
However, she advised the audience to evaluate the environment they are in. As a student in the UK, she worked at a plant. She was eager to prove herself and worked hard but instead of compliments, she received warning letters from the union. In one instance, it was working during the tea break.
"Sometimes, what you think is right, is not acceptable in a foreign environment, she added.
Be resilient
Dr Wong is the CEO and Chief Medical Officer of Web Biotechnologies and a Consultant Cardiologist at Raffles Heart Centre. Being a Clinician Innovator and interventional cardiologist with an interest in Digital Health and Secure Wireless Data Acquisition, he built sensors and clinical data acquisition tools based on cloud technology. He is a graduate from the National University of Singapore.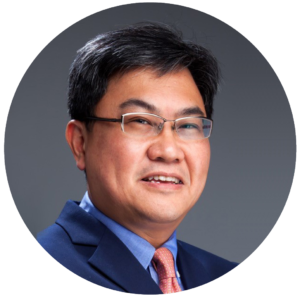 His interest in research, clinical innovation and entrepreneurship has earned for him personal accolades of more than 10 patents in the fields of experimental cell therapy/medical devices. He has also founded two medical start-ups in Singapore.
Dr Wong observed that an important trait among Asians is resilience and that Singapore is a good example of this attribute.
He noted, "We move ahead, displaying resilience personally or in a group and this quality will be more important with more changes and disruptions ahead and even the possibility of COVID part 2."
Moving forward
Before closing the session, the panellists also took the time to address some questions from the floor. As the world continues to grapple with the pandemic and an ever-changing global landscape, this uncertainty requires us to adapt and be resilient in order to succeed. The attendees left the lively session inspired by the sharing and a renewed perspective on tackling life's obstacles.