Driven by technological innovation, expertise and capital, urban farming can help alleviate Singapore's food security issues — and establish a food production model that can be exported to the region and beyond. By Sakinah Manaff
All around the globe, the seeds of a modern agrarian movement are taking root in abandoned underground train stations and shipping containers, public green spaces, unused skyscraper rooftops and carparks. More people than ever are growing food in cities, which are where most of the world's population now live.
In the last decade, urban farming has become a response to a variety of food security pressures. Large parts of the developing world lack water and arable land, while in the developed world, small-scale urban farms are seen as a solution to industrialised agriculture's profligacies, which include chemical fertilisers that contaminate waterways, and to the environmental and financial costs of transporting food to consumers.
The Food and Agriculture Organization of the United Nations estimates that urban or peri-urban agriculture (farms found on the fringes of urban areas) now supplies 20 per cent of the world's food needs.
For Singapore, its space and resource constraints as well as high dependency (as much as 90 per cent) on food imports make it vulnerable to global trends like climate change and geopolitics, which impact food supply and safety.
Experts believe that while local urban farming cannot meet all of the nation's food needs, it can still help mitigate some of its pressures. "Proper planning and investment in semi-intensive or intensive urban farming can reduce our import to 60 to 70 per cent and improve food security," said Dr Steven Fong, manager of the Urban Agricultural Technology programme at Republic Polytechnic.
Harnessing technological innovation
Growing more with less has inspired entrepreneurs to come up with creative solutions that run the gamut from capital-intensive state-of-the-art facilities to sustainable closed-loop farming systems.
Take Sky Greens, for instance. The vertical farm utilises a system that is best described as "plant skyscrapers", with tiers of planting troughs on 9-metre-tall, narrow A-frame structures. A water-pulley system uses rainwater collected in underground reservoirs to rotate the troughs around the aluminium frame, as if on a Ferris wheel, so that the plants get equal amounts of sunlight. The same rainwater is then used to water the crops.
Sky Greens has set up over 1,000 such towers on 3.65 hectares of land in Lim Chu Kang for commercial, trial and research purposes. Together, they produce more than 800 kilograms of greens daily — including Chinese cabbage, nai bai and xiao bai cai. The farm can grow 10 times as many vegetables as traditional farming methods over the same area, while using 75 per cent less manpower and 95 per cent less water.
"The application of technology is definitely required for maximum productivity," said Dr Fong. But he also struck a cautionary note: "Farmers must be careful not to apply technology for its own sake. They need to weigh the costs and benefits carefully. It's better to have a 20-cent-solution for a million-dollar problem than the other way around."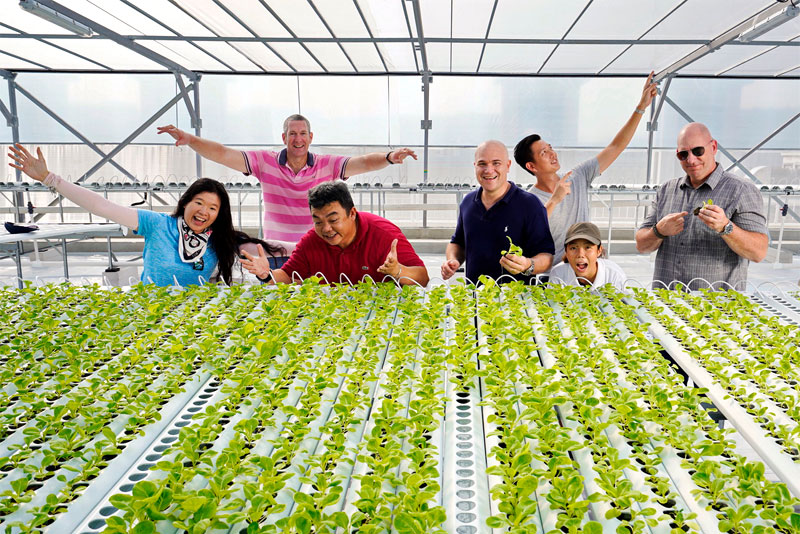 One urban farm that has been discerning in its use of technology is Comcrop. The company eschews expensive indoor farms, preferring to use marginal land on which it is typically difficult to grow crops. Its new Woodlands hydroponic farm used to be a rooftop carpark, but will soon have an enclosed pesticide-free greenhouse with climate control, automated growing systems and unique tools like IntelliDose, which manages nutrients and pH levels in plants.
"We talk about using technology to enable employment," said Mr Peter Barber, Comcrop's CEO. "The more we adopt technology, the more we are able to employ people with special needs and senior citizens, because the hard part is handled by technology."
Another player is vertical fish farm Apollo Aquaculture Group (AAG). Its three-storey farm in Lim Chu Kang houses six ponds and is fully automated and remotely controlled, from water conditions to feeding. Each 135-square-metre pond can hold 22,000 fish fry, allowing the company to farm 150 to 250 kilograms of fish per cubic metre of water, compared to the 25 to 75 kilograms that traditional sea-cage farming can yield.
"In the past, whoever has land and cheap labour will be food-secure," said Mr Barber. "Today, the paradigm has shifted — it's about having the skill set and technology, and these are things that Singapore is good at."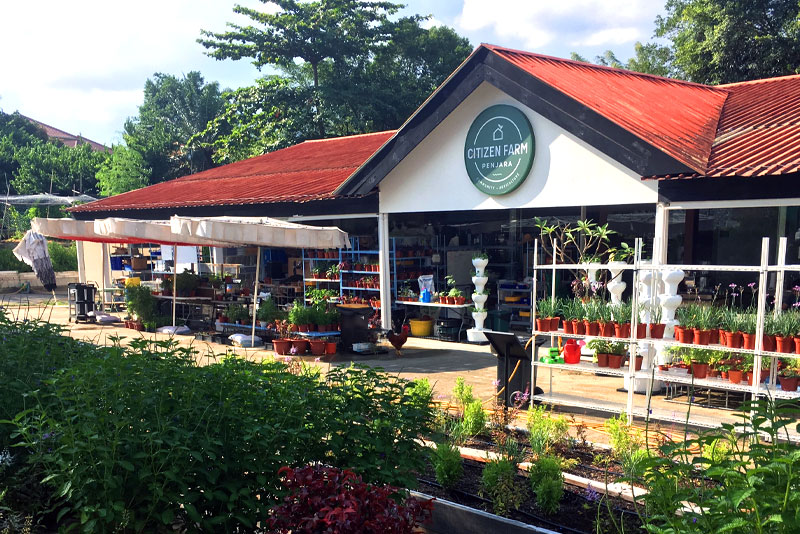 A hub for agri-tech
While recognising the importance of self-reliance, the government is also keenly eyeing the US$5 trillion global food and agri-tech sector. It has already been encouraging the homegrown burgeoning industry with a slew of initiatives that open up land and opportunities.
In January, Seeds Capital, the investment arm of trade agency Enterprise Singapore, appointed seven co-investment partners to channel over S$90 million in investments to develop Singapore-based start-ups in the agri-tech sector.
The Singapore Food Agency was also established to oversee the food supply chain — from import, local production, manufacturing to retail — and consolidate the regulatory oversight of food safety and security. One of the first tasks it set was meeting the ambitious target of producing 30 per cent of Singapore's nutritional needs by 2030.
To support this goal, S$144 million will be invested in sustainable urban food production, with a focus on tropical aquaculture and urban agriculture and the development of "future foods" in the form of alternative proteins. Undoubtedly, the crown jewel in the government's blueprint is the 18-hectare Agri-Food Innovation Park at Sungei Kadut. To be completed in 2021, the Republic's farming hothouse will have indoor plant factories, insect farms, animal-feed production facilities and research and development activities.
In addition, tertiary institutes will have a key role in training farmers of the future. Republic Polytechnic already offers a diploma in urban agricultural technology, while Temasek Polytechnic will be launching its Centre of Innovation in Aquaculture, which will house resources, intellectual property, infrastructure and expertise which companies and practitioners can tap to strengthen their capabilities.
Environment and Water Resources Minister Masagos Zulkifli aptly summed it up in a speech to Parliament in February: "Amidst the uncertainties facing the agri-food landscape, our goal is to seize the opportunity for Singapore to turn our food challenges into strategic advantages… to secure our food supply, transform our agri-food industry, develop our local enterprises, and provide good jobs to Singaporeans — just like how we have turned our vulnerability in water into opportunity."